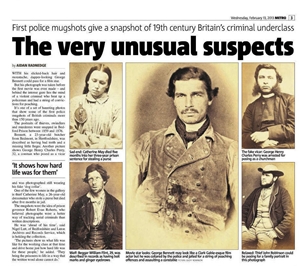 This haunting collection of photos shows some of the FIRST ever police mugshots of criminals in Britain – taken more than 150 YEARS ago.
The vintage portraits of thieves, poachers and murderer were snapped in Bedford Prison between 1859 and 1876.
The book of mugshots is held by Bedfordshire and Luton Archives and Records Service – which was the first local record office in the UK and is now celebrating its centenary.
The photo album was the idea of Robert Evan Roberts, the governor of Bedford Prison in the 1850s, who became concerned that too many habitual criminals were getting away. The police had previously relied on written descriptions to help capture criminals, but he believed these methods were too unreliable. Instead he commissioned a prison photographer to take pictures of offenders, so they could easily be traced if they committed further crimes.
At the time he wrote: "Photography as an agent in discovering the antecedents of criminals, especially tramps and strangers, is unquestionably a very useful auxiliary and in my opinion should be brought into prison use generally."
The volume contains the portraits and details of about 200 prisoners – just three per cent of those in Bedford Prison at this time. They offer a rare insight into the working class of the late 19th Century, who were not often photographed. Photographic portraits were expensive so the portraits which usually survive from this time are mainly of the gentry and middle classes who could afford them.
"Commercial photography was very new and only started in the cities in the mid 1850's, so the prison governor was ahead of his time in exploiting the latest technology," said Nigel Lutt, archivist of Bedfordshire and Luton Archives and Records Service. "The pictures show us what life was like for the working class at that time and drive home just how hard life was for these people. They bring the prisoners to life in a way that the written word alone cannot do."
The mugshots include George Bennett, a dapper-looking 23-year-old, who looks like a film star, with a moustache and slicked-back hair, who has many poaching convictions and assaulted a police constable. According to the prison records he is a butcher, from Bedmont, Herts, who goes under the alias of Henry Simpson. It also states that he has lost his little finger and has bad teeth.
One of the few women photographed is Jane Green, alias Elizabeth Locker, 20, who has been sentenced for four years for stealing. She is described as a married stocking weaver, from Nottingham, with a fresh complexion and a "very long face."
Another photo shows John Robinson, who could be posing for a family portrait in a hat, jacket, waistcoat and neat beard. The 28-year-old woodturner, who has been sentenced to four years for stealing, is described as having a scar on his head, large vaccination marks on his left arm and an almond-shaped mole on his face.
The photo of William Flint, 29, arrested for begging, describes him as having boil marks and ginger eyebrows.
Another picture shows George Henry Charles Perry, who was arrested for posing as a vicar to con people. The 32-year-old is seen still wearing his fake dog collar.
Labourer Samuel Oliver, 46, was sentenced to 21 days in prison for begging on Bedford High Street. He is said to have a "ruddy" complexion and imperfect speech and a lame leg after suffering a stroke.
The youngest offender is William Doyle, who is just 17, who can't read or write and has a pale complexion. He was sentenced to six years in prison for setting fire to a stack of wheat.
The only black man in the book is Thomas Jenkins, a 39-year-old ship's cook, who is described as "high-shouldered." He was arrested for refusing to give evidence in a murder case.
Several of the inmates have been photographed, rather bizarrely, in front of a fake back-drop, depicting a prison cell with an open door.
The Bedfordshire and Luton Archives and Records Service was established 100 years ago and provided the blueprint for all other local record offices which followed.
Our Story Appeared In