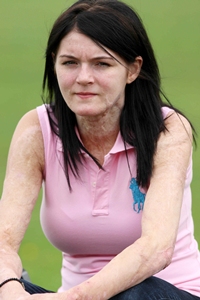 A girl who suffered horrific burns to a THIRD of her body has bravely bared her scars for the first time this summer – eight years after the fire which killed her two cousins.
After years of pain, agony and hiding away, Vicky Chaundy, 16, has stunned her family by courageously stepping out in T-shirts.
The teenager suffered third and fourth degree burns from her neck to her tummy and on her hands and arms in the fire when she was just eight years old.
Her left hand was so badly burnt doctors initially wanted to amputate it and she has had skin grafts and operations every year since the accident.
After the fire Vicky was bullied at school for her appearance and until now she has always covered her scars with jumpers – even in hot weather.
"It's a day I thought I would never see and a really remarkable step forward," said her mum Kim Knight, 42, from Dagenham, Essex.
"I'm incredibly proud that Vicky has decided to wear sleeveless tops and dresses again."She lost a huge amount of confidence after the fire and was bullied at school.
"Everyone has been saying how lovely she looks so hopefully this will be a fresh start for her."
The horrific fire happened when Vicky had gone to stay with her mum's brother Kevin Knight, 52, his wife Kate, 38, and her cousins for the weekend at his Prince of Wales pub in Stoke Newington, North London in 2003. It broke out on the ground floor of the pub in the early hours of the morning while Kevin and Kate were drinking with friends and Vicky and her cousins were sleeping upstairs.
One of the customers, Ronnie Springer, helped to rescue Vicky and an 11-year-old girl, who was also staying at the pub, by smashing a window and lowering them to safety. The other girl escaped unhurt, but Vicky was taken to hospital, along with her five-year-old cousin Charlie and a two-year-old boy, who had also been at the pub. Tragically her cousin Christopher, 10, died on arrival at the hospital.
Vicky was put in an induced coma and over the following few days surgeons grafted skin from her back and legs on to the most badly affected burns. Doctors also splinted her arms to keep them straight and stop the skin contracting.

A day after the fire Vicky's other cousin Charlie died and Ronnie Springer, 35, also died in hospital after falling from the pub window when he rescued Vicky.
"I was shocked when I had the phone call to say Vicky was in hospital and when I saw her lying unconscious on the bed I couldn't believe it," said Kim.
"I couldn't touch or hold her as her body was so blistered and the doctors were worried the flames may have damaged her eye sight.
"I was thankful her face hadn't been burned but she was very ill and I was worried about how she would react to her injuries when she woke up."
Two weeks later doctors brought Vicky out of her coma and the bandages were gradually removed. After three months in hospital she was finally allowed home, but had to have cream rubbed into her skin four times a day. At home Vicky needed help dressing herself and even eating. She constantly had to go back to the hospital to have her dressings changed and for physiotherapy. Since then she has had an operation nearly every year since the fire, including two skin grafts.
Fire investigators discovered the blaze had been started deliberately in the hallway after two paper towels soaked in accelerant had been set alight. A woman was charged with manslaughter and arson, but eventually acquitted.
"I hated leaving the house as everyone would stare at me," said Vicky.
"I was bullied at school and got called Freddy Krueger or burnt toast. I didn't go out much."
But now eight years after the accident Vicky is determined to put the past behind her and has found a new confidence. She even wore a strappy gown to her school prom at the end of the term.
"Over the years I've grown stronger and learnt to live with my scars and not care so much about what people say," she added.
"I want to dress like my friends and not cover up any more.
"I know how lucky I am to be here and I'm determined to be a normal teenager."
Vicky is planning to start a health and social studies course at Havering College in London in September and become a nurse so she can help other burns victims.
Our Stories Appear In