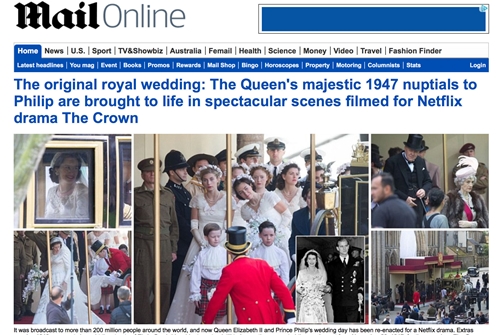 The streets of Ely in Cambridgeshire were brought to a standstill as crowds gathered to watch a re-enactment of the QUEEN'S WEDDING for upcoming Netflix drama The Crown.
Queen Elizabeth II, played by actress Claire Foy, was seen stepping out of a gold horse-drawn carriage and entering Ely Cathedral, which is doubling for Westminster Abbey in the 10-episode series. Crowds lined the streets to watch as the momentous occasion from November 20, 1947 was carefully reconstructed in the Fenland city.
Claire, 31, who recently played Anne Boleyn in BBC2's Wolf Hall, wore a long white lacy wedding dress, veil and red lipstick for her role as the Queen. Her long dark hair was curled to resemble the Queen and she carried a huge bouquet of white flowers. She was surrounded by eight bridesmaids, all dressed in white dresses, with long white gloves and rings of flowers on their heads. A pretend newspaper photographer was seen capturing the scene and a line of soldiers saluted as she made her way into the abbey.
Claire was earlier spotted travelling towards the cathedral in the impressive replica Irish State Coach, which was drawn by white horses as footmen in red jackets rode on the back. She was then helped out of the coach by an actor playing the Queen's father, King George VI, before entering the cathedral.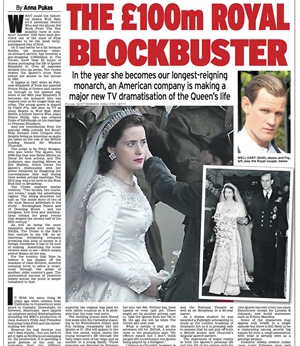 Earlier in the day Third Rock from the Sun actor John Lithgow, who is playing Prime Minister Winston Churchhill, was seen arriving at the Abbey in a large car and wearing a black top hat and tails. Extras, wearing 1940's clothes, were drafted in to play the crowds, which lined the streets of London on the special occasion.
Queen Elizabeth's husband Prince Philip is being played by former Doctor Who star Matt Smith, who is expected to appear in scenes later today.
The drama, due to be aired next year, is inspired by the stage play The Audience, by Peter Morgan, which starred Helen Mirren as The Queen. According to Netflix, the show 'tells the inside story of two of the most famous addresses in the world - Buckingham Palace and 10 Downing Street - and the intrigues, love lives and machinations behind the great events that shaped the second half of the 20th century'. The series is expected to focus on the Queen's coronation and relationship with Winston Churchill.
Queen Elizabeth's wedding in 1947 was officiated by the Archbishop of Canterbury and broadcast by BBC Radio to more than 200 million people around the world. The couple received more than 2,000 wedding presents and 10,000 telegrams of congratulations. The Queen had to use ration coupons to buy the material for her wedding dress, which was designed by Norman Hartnell and she did her own make-up.
Our Story Appeared In