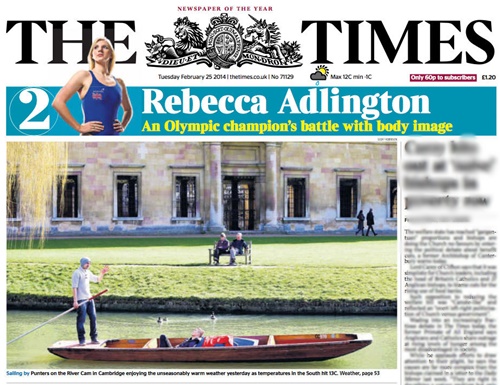 Families basked in the sunshine on the River Cam in Cambridge as England enjoyed temperatures of TWICE the normal average for this time of year.
Many went punting on the historic Backs as temperatures hit double figures in parts of the country, with highs of 13C in London. The average temperature for February is usually 6C, but many Brits stepped out without a coat for the first time after weeks of storms and flooding.
The sunny weather has also helped the spring bulbs to flower, with carpets of crocuses outside the Cambridge University colleges and daffodils along the river. But experts at the Met Office say the rain is set to return later in the week, with more unsettled weather on its way.
"It's nice to see the sunshine, but people should make the most of it and enjoy it while they can as there is more unsettled weather coming," said Nicola Maxey, of the Met Office.
"We are looking at typical end of winter weather this week. But the good news is there will be sunshine in between the showers. Today much of the country has seen a sunny day, but rain is set to move in from the West overnight. There will be a mix of sunshine and showers tomorrow , with the rain lingering in the North West. The showery weather will continue on Wednesday, with up to 15mm of rain falling overnight. This could turn to snow on the higher ground in Scotland. Thursday will see a mix of blustery showers and sun and the unsettled weather will continue into the weekend."
Our Story Appeared In