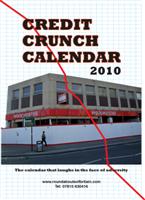 A calendar featuring a boarded-up WOOLWORTHS and other sad victims of credit crunch Britain has become a surprise bestseller.
The unusual calendar, which shows 12 shots of the UK in economic decline, has proved a huge hit with people fed up with the financial crisis.
Produced by Kevin Beresford, 57, it encourages Brits to laugh in the face of adversity with pictures of boarded-up businesses, perished pubs, collapsed cafes and torn-down toilets.
"Every year you see the same calendars on the shelves, such as Jordan and Cliff Richard, so I decided to come up with something totally unique," said Kevin.
"There is such dismay going round the country at the moment, but Brits love to laugh in the face of adversity.
"It's all about the Dunkirk spirit. In the old days Brits would stand around the piano while bombs were falling on their heads.
"There's not much we can do about the credit crunch so we might as well have a laugh."
The front cover features a dilapidated Woolworths, with all its windows missing and the inside ripped out.
The credit crunch year then kicks off with the boarded-up New Rimini Café in inner city Birmingham.
March is the turn of the perished Griffin pub in Warwickshire with smashed windows, missing roof tiles and big Keep Out signs.
While May shows a depressing shot of the visitor's entrance at Dartmoor Prison, with the ironic catchline "Her Majesty's Prison Service is the fastest growing industry in Britain today."
In August there is a photo of cash-strapped Brits sunbathing at a fake seaside in Birmingham city centre and the slogan "lovely diamond white sand and convenient nearby stylish window shopping."
November's image is a closed down public convenience on Tower Bridge Road in London, ironically being promoted by Southwark Council as a business opportunity for a new restaurant.
Other examples include the Grimsby Docks, a printers off the Old Kent Road in London, which is covered with graffiti and a ramshackle beach bum's hut.
"The calendar shows businesses, pubs and cafes around the country which have all closed due to the credit crunch," said Kevin who runs BB Print Digital, based in Redditch, Worcestershire.
"I think it will appeal to anyone with a sense of humour."
Appeared In