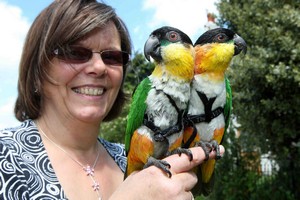 A woman is so devoted to her pet parrots she takes them shopping, cycling, walking and even on her SKIING holidays.
Mum-of-three Jane Hartley, 52, rarely leaves home without black headed caique parrots Fiz and Buzz on her arm.
The brightly-coloured birds accompany her each morning on the school run, help her take the dogs for a walk and sit on her arm while she does the weekly shop.

The parrots are even invited on her annual skiing holiday in the Alps and sit in her pocket while she zooms down the black runs.

"I know that if I kept them in a cage all the time they would have a miserable existence, so I take them out and about with me," said Jane, from Loughborough.

"I do get a lot of people stopping and staring, but most seem to find it quite amusing.

"They are only small birds so they are easy to carry around."

Jane and husband Trevor, who also have two dogs and a cat, bought Fiz as a baby five years ago and two-year-old Buzz joined the family last October. At home the birds have a cage, but are given the run of the house and enjoy perching on the sofa and watching television, particularly music shows. They also love joining the couple on long bicycle rides and will sit on Jane's hand as she pedals along.

"They love the freedom they have and really enjoy our bike rides," she said.

"I put them in a little harness so I know they are not going to fly away, but it's great for them to spend so much time outdoors."

The couple also take the parrots on holiday with them and book them into hotels in England and even France. If they go abroad they always travel by Eurotunnel as the birds have so much luggage.

"It's fun taking them away with us and most hotels don't seem to mind," added Jane, whose eldest two children have left home and 17-year-old daughter is doing her A-levels.

"We occasionally get some strange looks from the guests and we do have to make sure the parrots don't make a mess in the rooms.

"If we go to France we just have to fill in a Defra form and get them checked over by the vet a day before we leave, it's very easy.

"But we do end up taking a lot of luggage for the parrots. Their cage weighs 25 kilos and I also pack clean bottles, food, toys and their perch."

When they are on holiday the parrots join the couple for meals in the restaurants, hikes around the mountains and even skiing.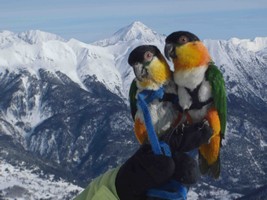 Amazingly the birds, which originally come from the warm climes of South America, love the snow.

"I put them in my pockets while we go up on the ski lift and ski down the mountain," she said.

"I did fall once and nearly squashed them so it is a bit of a worry, but I know they enjoy it.

"If it is a sunny day they will sometimes sit on my hand in the chair lift, they take it all in their stride.

"They don't mind the cold and they will peck at the snow and try to eat it."

Jane said the parrots, which could live until the age of 40, behave just like children. Buzz, who whistles the Great Escape and Fiz, often get in trouble for wrecking clothes and the furniture.

"They are a bit like toddlers, I have to discipline them and stop them from ruining the house, so they can be hard work," she said.

"But they are great birds and each has its own character.

"Fiz is a daddy's girl and loves it when my husband comes home from work, but Buzz is a bit quieter and keeps to himself."
Our Story Appeared In