A former MISS ENGLAND has graduated from CAMBRIDGE University – and secured a job as a student doctor in the rival university city of OXFORD.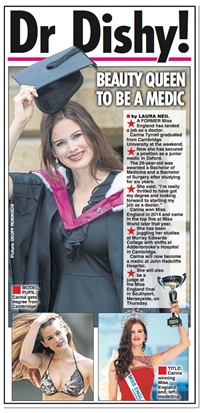 Carina Tyrrell, 26, has been awarded a Bachelor of Medicine and a Bachelor of Surgery after studying medicine at the prestigious university for six years. She gained a first class degree in her pre-clinical studies and a number of distinctions and prizes during the last three years of her course.
"I'm really thrilled to have got my degree and looking forward to starting my job as a doctor, it's what I have always wanted to do," said Carina. "I'm a little nervous about it as I'll have a lot of responsibility on my shoulders, but I want to be the best doctor that I can be."
After winning the title of Miss England in the summer of 2014, Carina took a gap year from her studies to concentrate on her charity work. She returned to Murray Edwards College last autumn and has since been juggling her studies with shifts at Addenbrooke's Hospital in Cambridge, where she has worked in A&E, on the wards and in the operating theatre.
Carina is now set to start her new job as a junior doctor at John Radcliffe hospital in Oxford, where she will do a two-year programme.
Our Story Appeared In