A 103-year-old former Wren Officer in WW2 has taken to the skies in a Miles Magister plane – 80 years after she was offered a lift home from a party in one by a Polish officer.
Christian Lamb, who is one of the last surviving WW2 Wren Officers, looked thrilled as she soared into the air in the two-seater training aircraft – eight decades after hitching a lift in one when she missed her train. Mrs Lamb, who lives in London, was watched by her family and friends as she re-lived her daring flight at the Shuttleworth Trust 'Circus' Air Show.
The author, who joined the Women's Royal Naval Service at the age of 19, had been on a course in Bath when she missed her return train back to her plotting and operations base in Plymouth. Luckily, Christian, who was a Plotting and Operations officer in the Battle of the Atlantic and later worked on D DAY Landing craft maps, was saved by a "delightful Polish officer" who she had met at a party the night before and he gave her a ride in the back of his plane.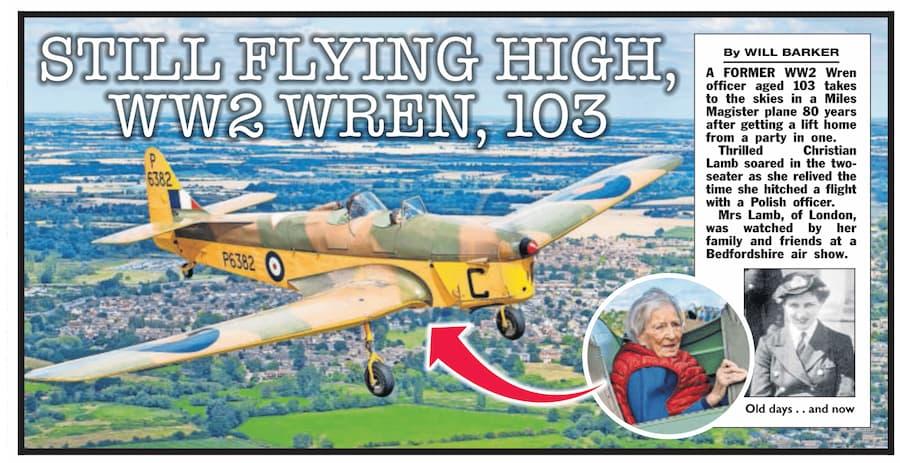 Mrs Lamb recalled how she had to sit on her parachute in the back and the trip was made extra-thrilling by the pilot "dive-bombing cows."
She wrote in her memoir, Beyond the Sea, "I could not believe my luck when I was saved by a delightful Polish officer with whom I had met at a party the night before. He astonished me by saying, 'Shall I take you back in the old crate?' I was nearly speechless when I realised, he meant his aeroplane. I stammered out my rapturous acceptance!"
"This episode may sound quite ordinary now but then it was quite the most daring episode in my life. My rescuer was, I suppose, an instructor because he had at his disposal a Miles Magister training plane, with just two seats, one behind the other – in the open air of course."
"I had to sit on my parachute in the back and we set off in fine style looking out for and overtaking the train I had missed. My pilot tried to give me some good frights en-route and make the trip extra thrilling by dive bombing cows or anything else that took his fancy. I had been hoping that he might loop the loop for an extra show off, but perhaps it was just as well that he didn't, or I might have fallen out."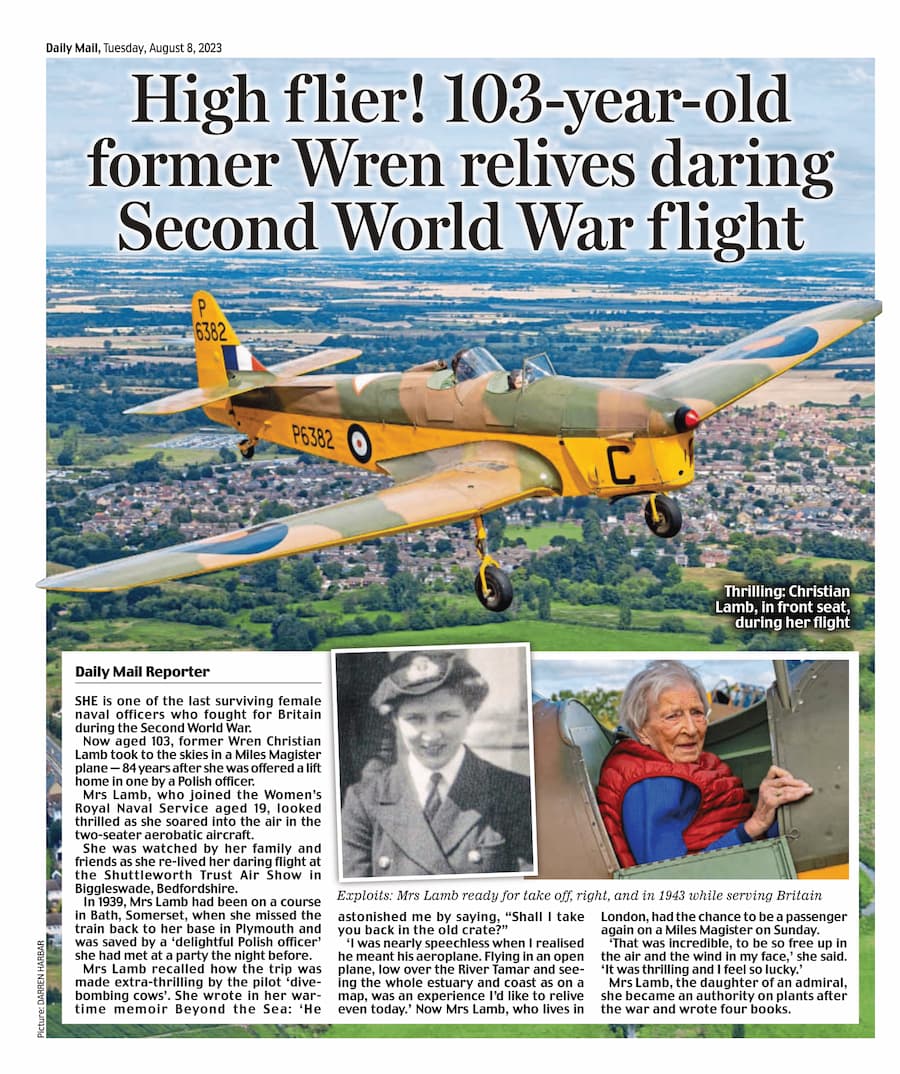 "Flying in an open plane, low down over the River Tamar and seeing the whole estuary and coast as on a map, was an experience I'd like to relive even today."
Christian said yesterday (Sunday), the flight was "a lot noisier" than she remembered, but an "incredible" experience. "When I wrote that in my book two years ago, I never dreamed I would actually get to go up in one again and certainly not at 103," she said.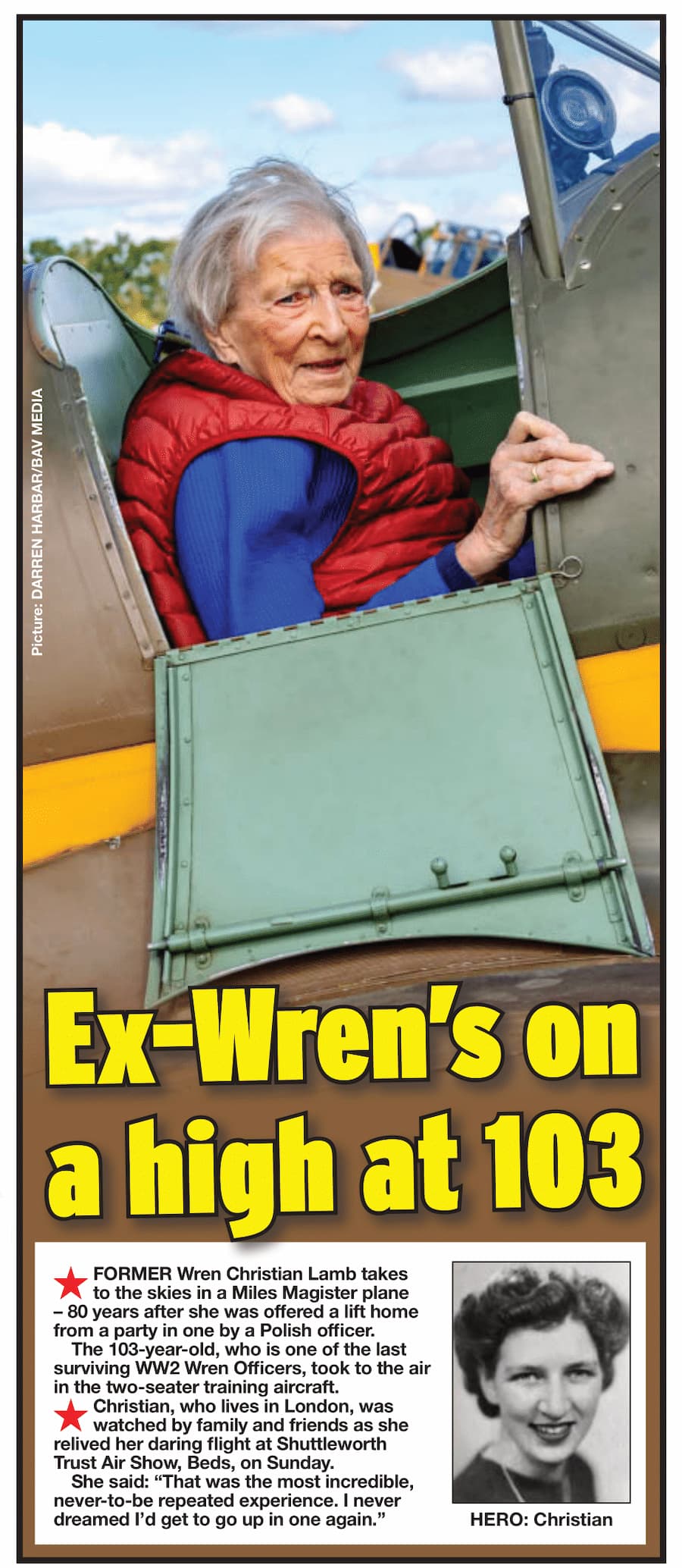 "That was the most incredible and never to be repeated experience, to be so free up in the air and the wind in my face, it was thrilling and I feel so lucky to have had this chance again at 103!"
Our Story Appeared In