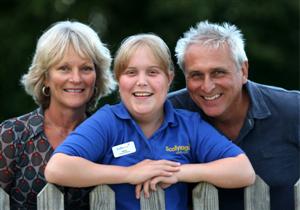 A girl who was the youngest baby ever to have a kidney transplant has since had a second one from her MUM and now amazingly is about to get a third from her DAD.
Keeley Beytell-Heron was just 12 days old when 20 years ago she became the youngest child in Britain to receive kidney dialysis.
At 17 months she was the youngest and smallest child in the world to have a kidney transplant.
But her body gradually rejected the donor organ and when she was 12 she was given a replacement kidney by mum Judy Beytell, 50.
Now that kidney is starting to fail too and 20-year-old Keeley's best hope of survival is a live donor transplant from her dad, Christopher Heron.
She will now become one of just a handful of people in the UK to have a kidney both from their mum and dad.
"Both Judy and I were originally found to be good matches, but we chose Judy as her kidney was smaller for Keeley who was only 12 at the time," said Mr Heron, 55.
"Keeley is now feeling very ill again and although dialysis is a possibility it will be fraught with difficulties due to the trauma caused by the original dialysis she had when she was just a few weeks old and her heart condition.
"A live donor transplant is the best option and luckily tests so far show I am still compatible."
Keeley was born at 40 weeks in the Rosie Hospital, Cambridge, after a normal pregnancy, but when she was just a few hours old she was diagnosed with transposed arteries, found in 1 in 10,000 babies.
She was rushed to Great Ormond Street Hospital in London and at 10 days old had major heart surgery.
But serious post-operative complication caused kidney failure and she had to be dialysed.
"At that time she became the youngest in the country to receive dialysis," said Mr Heron, who also has a daughter Josie, 13.
"She was so tiny the volume of dialysis was too small to be measured and she was given a prototype machine, which was able to weigh the small quantities she required.
"She was given her first kidney transplant when she was 17 months old.
"She only weighed 6.9 kilos and the kidney from an adult 32-year-old male was physically nearly impossible to fit it in."
Keeley, who spent an enormous amount of her childhood at Great Ormond Street had her second kidney transplant when she was 12 after becoming seriously ill when the first transplant was rejected.
"It was terrible for all of us. She couldn't eat and in the end she just lay on the sofa fading away," he added.
"The transplant was very problematical and Keeley was in theatre for 11 hours.
"She survived due to the skill and tenacity of the surgeons who would not give up on her.
"Judy also didn't react very well to the surgery and it was a nerve-racking and long day."
But after the second transplant Keeley's health improved dramatically.
She finished school and started a childcare course.
But last February blood tests showed signs of chronic rejection, which had been controlled by a regime of drugs.
"Now she is reaching the point where her kidney function is minimal and she must have a third transplant," added Mr Heron.
"The operation will be very difficult because of the trauma caused by previous surgery in that area but we have no choice.
"It is very worrying, but drug regimes are better now, although surgically she is a worse case now than for her last transplant.
"Her lungs are in an awful state because she has been ventilated so many times and had numerous chest infections.
"We've found she is always at the leading edge of what is happening and survives because of her will and the skill of the doctors and their medical teams."
Keeley, whose kidney transplant is planned for next month, said she was extremely grateful to both her parents.
"Before I had the last transplant I felt so ill I couldn't believe what a difference it made." She said.
"Now I'm feeling ill again and I know how much better another transplant will make me feel.
"I'm extremely grateful to both my parents for donating a kidney to me."
In the meantime her family is keen to raise awareness about organ donation in the UK.
"We have an "opt in" policy in the UK and others have an "opt out" and various permutations of both," added Mr Heron.
"There have recently been two reports concluding that an opt out system would not increase the donation rate, but there is also persuasive research to indicate the opposite.
"What is clear is that the current system needs to be debated."
Peter Sas, a spokesman for NHS Blood and Transplant, said it was "very rare" for a patient to receive a kidney from both parents.
He said: "In the last 10 years only 12 kidney recipients received two transplants, from their mother, then from their father."
In total, there have been 7,577 living kidney transplants since the 1960's.
Appeared In