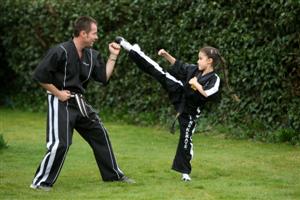 An eight-year-old has stunned martial arts experts by becoming the youngest known GIRL in England to get a black belt in karate.
Jasmine Hannah, who stands at only four foot two tall, has been awarded a black belt in sports karate with the highest grade of A+ just weeks after her eighth birthday.
The karate kid, who started the sport at the age of four, has already worked her way through the first 12 belts and now even helps to teach the younger children.
"It's an amazing achievement for someone so young," said her instructor Andrew Hicks, from Hicks Karate in Peterborough, Cambs.
"I could hardly find a fault when she did her black belt exam and she got the highest grade possible.
"I have been taking part in karate for 23 years and have been a teacher for 18 years, and Jasmine is the youngest I have ever graded.
"She is the youngest girl in the country that I know of to get a sports karate black belt.
"Normally children can reach black belts by the age of about 11."
He said Jasmine, who also enjoys ballet and gymnastics, was a naturally gifted student and had trained hard four times a week to make the grade.
"She started with us in the little ninjas group when she was just four and has always seemed to have a gift. She can kick very naturally," he added.
"She moved quickly through the belts and into the normal children's class and is now in the black belt training class.
"It is down to her dedicated training up to four times a week that she has achieved this at such a young age.
In the gruelling 90-minute exam Jasmine had to show she was proficient in all her sports karate techniques and demonstrate a high degree of strength, stamina and self control.
"I started karate when I was four. I was walking past the centre one day and could see other children doing it and decided I wanted to give it a try," said Jasmine, from Peterborough, Cambs.
"I thought if there were any bullies I'd be able to kick them off.
"The exam was very hard work and by the end I thought I would collapse.
"All my friends are very impressed and I really want to continue with karate," added Jasmine, who wants to be a karate teacher when she is older.
Jasmine will be able to take another exam and convert to an adult black belt in eight years time when she is 16.
Meanwhile she will be able to take extra exams each year and earn a series of stars.
"We're very proud of her. It's a major achievement at such a young age," said dad Paul, who took up karate two years ago and is one belt below Jasmine.
"She only just turned eight in December and she has worked very hard. She hasn't missed a class apart from to go on holiday."
A spokesman for the Karate Union of Great Britain said it was "very rare" for someone so young to get a black belt.
Jacey Cashman, senior instructor with the Sports Karate Federation, added: ""I am involved with instructors all over the world and as far as I know she is one of the youngest girls to have got a black belt in sports karate."
Appeared In