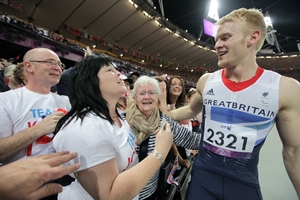 Jonnie Peacock has become the fastest amputee sprinter in the world after winning gold in the T44 100 metre final.
The 19-year-old British "blade-runner" beat the favourite South African Oscar Pistorious in front of 80,000 people with a time of just 10.9 seconds.
It is a dream come true for the teenager, who lost his right leg after contracting deadly meningitis at the age of five.
"It's absolutely surreal. I just had to keep reminding myself deep breaths and head down," he said. "The Games is a legacy and to be part of that is absolutely amazing."
Mum Linda, who was told to say goodbye to Jonnie after he became ill with meningitis, said she was very proud.
"I am so proud of him. He has come so far from that poorly little boy with just one shoe," she said. "On the other hand I'm not surprised because he has always had the mentality of an athlete. He has done this well because the determination which means he is still here today is the same determination he shows in every part of his life."
Jonnie, who said he believed he would be able to do the 100 metres in 10.6 seconds one day, has always been keen on sport and was running from the moment he could walk.
"He has always been 0 to 60," added Linda, 46, from March, Cambs, who also has three older daughters.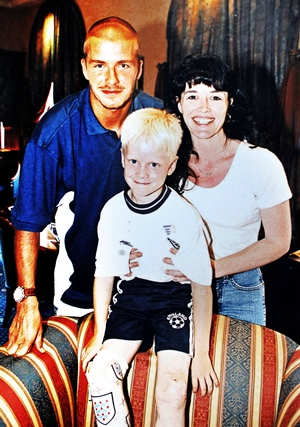 But in March 1998 his life was put on pause when he contracted deadly meningitis. He had gone to bed with a high temperature and when he woke in the morning the purple rash suddenly appeared all over his body.
"The girls had all had a sickness bug so I assumed it was his turn," said Linda. "I stayed with him throughout the night and I knew he was very ill as he started hallucinating. In the morning I popped downstairs to call the doctor and when I went back up the rash had appeared. That was the moment I knew we were dealing with something completely different. At the back of my mind I thought it was meningitis."
At the hospital Jonnie was put in an induced coma and Linda was told the chances of him recovering were slim.
"They told me to say goodbye, but I just couldn't do it," she said. "It is every mum's worst nightmare. It was real but it didn't seem real and you live it as though it is a nightmare and not really happening," she said. "Your emotions don't really have time to process it and kick in. In fact my brain probably didn't really take it in until two years ago. It has taken that long."
The doctors at Addenbrooke's Hospital in Cambridge eventually decided to amputate Jonnie's right leg below the knee to prevent the blood poisoning spreading through his body.
"It was very hard to explain to a five-year-old what was going to happen. He knew he was going to have his leg taken away and get a new leg, but when he woke up after the operation he was screaming," she said. "It was absolutely devastating and the worst moment for me as there was nothing I could do to make it better."
But Jonnie was determined to get on with his life and after he was fitted with a prosthetic leg he was soon back playing rugby and football with his friends.
"Once the leg was fitted he was running within days," she said. "It's a strange feeling as you never expect to see your child learn to walk for a second time."
Jonnie played football for the St Ives Rangers under-13s but when he went for an athletics try out four years ago he discovered it was running he really wanted to do.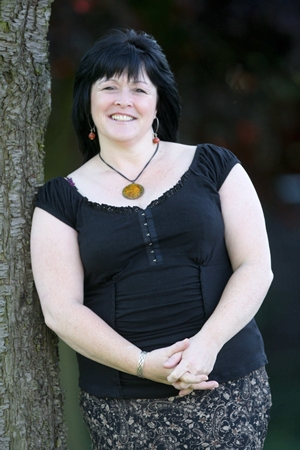 "We saw a poster for an open day for people with disability to take part in sport," said Linda. "I thought it would be good for him to go as it might help him learn to accept himself more. But of course being Jonnie he had to be the best at everything on the day. But it was the athletics he particularly loved."
He was the youngest selected for the fast track programme for UK Athletics. His first competitive race was in June 2009 and he made his debut on the world scene, aged 16, at the BT Paralympic World Cup in 2010.
This year Jonnie has enjoyed a meteoric rise, setting a new 100 metres world record of 10.85 seconds at the beginning of July at the US Paralympic Track & Field Trials, in Indianapolis. He beat the previous record held by Marlon Shirley, the US's 2004 Paralympic champion, by 0.06 seconds.
"It's amazing, every race he has just got quicker and quicker. But he has put in the work," added Linda, who works for the Papworth Trust. "He has had a few good nights out with his friends but this has been his goal. He doesn't know how to quit. As a family we have had a difficult ride but when you have the lowest lows the highest highs are off the scale."
Our Story Appeared In