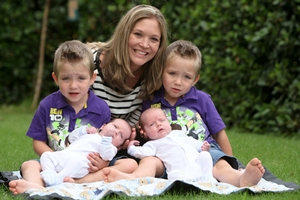 A woman has given birth to twin boys on the SAME date as their elder twin brothers at odds of 25 MILLION to one.
Kim Hefer, 29, was "gobsmacked" when babies Devon and Logan arrived four weeks early on July 18 – the birthday of their four-year-old brothers Tristan and Blake. It is believed to be the FIRST time in the UK a pair of naturally conceived twin boys have shared a birthday with their twin brothers.
Mum Kim and husband Freddie, 30, were shocked when they heard they were expecting another set of twins, which were due on August 16.
"I couldn't believe it, we were absolutely gobsmacked," said Kim, from Little Paxton, Cambs. "We never believed we would have another set of twins and I'd even got rid of half the baby things as I only expected to have one more."
The boys were due on August 16 but Kim ended up going into Hinchingbrooke Hospital in Cambs at the beginning of July with high blood pressure and the boys were delivered early on July 18.
"I begged the doctors to let me go home for my elder boys' birthday but they told me I wasn't going anywhere as they'd have to deliver my babies that day," said Kim. "I couldn't believe they were all going to share the same birthday, the odds of it happening are so high."
She said older brothers Tristan and Blake were thrilled with their birthday present of two younger siblings.
"The boys were very excited to meet their brothers on their birthday, but they're four and after a while they were a bit fed up that they didn't do anything," she said. "I think it's lovely to have four boys and hopefully they'll all get on really well together. It's all a bit strange for us as I have a sister and my husband has three sisters so we're not used to boys. But my husband is a huge rugby and cricket fan so hopefully they will form a nice squad in our back garden."
Logan was born at 11.50pm, weighing 5lb 5oz, while Devon was born a minute later at 6lb 3oz. Kim said the household was a "bit crazy" at the moment but her mum and sister are currently visiting from South Africa to help out.
"It is a very busy house and we're surviving on hardly any sleep but it's all good fun," she added. "The older two start school next week so that should make things a little easier. I'll be the only mum at the gate who won't be crying. We're definitely not planning to have any more children - I think two sets of twins is quite enough."
She said they were now looking forward to big birthday parties on July 18 each year.
"I think we'll do a combined party for a few years, it will be great fun," she added.
Naturally-conceived twins run in Kim's family, her mum's gran had two sets of twins and her dad's gran was also a twin. There are just six families in the world with two sets of twins born on the same date.
"We believe we're the only family in the UK with two sets of twin boys born on the same date," said dad Freddie.
Our Story Appeared In