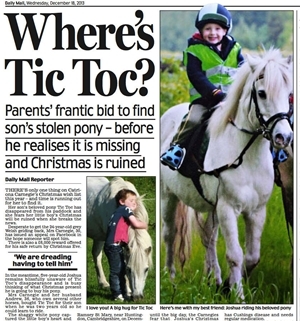 A mum has launched an emotional nationwide appeal to SAVE her five-year-old son's CHRISTMAS after his beloved pony Tic Toc was stolen from their paddock.
Catriona Carnegie and her husband Andrew, 36, have not yet told their little son Joshua the heart-breaking news that his "best friend" Tic Toc is missing.
Instead they are desperately hoping the 24-year-old welsh grey gelding will be returned in time for Christmas Eve and are doing everything they can to find him.
Celebrities including Gordon Ramsay, comedian Dawn French and Olympic gold medallist dressage riders Charlotte Dujardin and Karl Hester are now helping with the search by posting Tic Toc's picture on Facebook.
His photo has been shared by more than 40,000 people on Facebook and members of the equine community are offering a £6,000 reward for his safe return by Christmas Eve. But with just eight sleeps until the big day, the couple fear that if Tic Toc is not returned soon, then Joshua's Christmas will be ruined.
"Josh is five years old and Tic Toc is his best friend, so it's absolutely heart-breaking and we can't bring ourselves to tell Josh he has gone," said Catriona, 30, who is a veterinary nurse. "Josh has grown up with the pony and spends his weekends with him and it is going to absolutely devastate him when he learns what has happened. We are shocked that Tic Toc has been taken as he is not worth anything to anybody else, but he means everything to Josh."
The couple, who own a number of other horses, bought Tic Toc for Joshua when he was two years old so he could learn to ride and the pair have become inseparable over the years. But the elderly pony disappeared overnight on December 6 from a paddock behind the family home in Ramsey St Mary's, near Huntingdon, Cambs. Tic Toc, who suffers from cushings disease which needs regular medication, has long curly leg hair and was wearing a dark blue rug.
"I got to the field around 9am and found the padlock open and Tic Toc missing," she added. "We have searched everywhere for him and his picture has been shared more than 40,000 times on Facebook, but we still haven't managed to find him. Joshua has been at school so we've been able to keep the news that Tic Toc is missing from him, but he keeps asking to go riding and even wants to buy him a Christmas present. We are absolutely dreading having to tell him about Tic Toc and just hope we get him back before we have to say anything. Tic Toc has no monetary value and costs a lot in medication and specialist trimming. He is also quite elderly so it makes no sense that he has been taken."
"We would appeal to anyone who has got him to let us know where he is and we can come and get him."
Our Story Appeared In