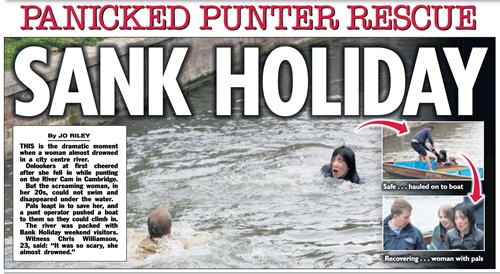 A woman, believed to be in her 20's, had to be rescued after she almost drowned whilst punting on the River Cam in the historic city of Cambridge.
The woman, who couldn't swim, was pulled to safety by her friends after she disappeared under the water for several seconds in the terrifying incident on the busy river.
The tourist, who was standing up on the punt ferrying three friends, is believed to have fallen into the freezing water after her vessel hit another boat in the university city. She lost her balance and toppled overboard, then bobbed under the water several times as she tried to save herself.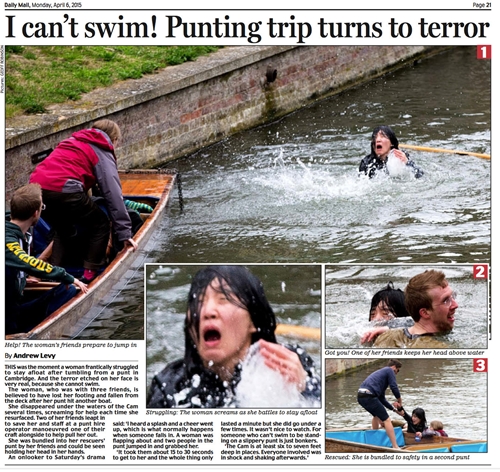 Onlookers cheered as she fell in, but quickly realised she couldn't swim when she started screaming and two of her friends quickly jumped in to save her.
"We thought she was messing about at first and everyone started clapping and cheering when she fell in the river as there was a big splash," said tourist Chris Williamson, 23. "When she began bobbing under the water and screaming we suddenly realised it was a very serious situation. It looked as though her punt hit another punt as she tried to pull into the quayside. I've seen people fall in before, but usually they can swim, this was really scary as she almost drowned."
A man and a woman jumped in to save the girl and a punt operator pushed a punt towards them so they could climb in, then she was wrapped in a rug.
The picturesque Backs in Cambridge were particularly busy yesterday afternoon as punters made the most of the brighter Bank Holiday weather after a week of storms and rain.
Our Story Appeared In