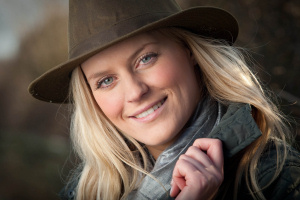 A 25-year-old blonde bombshell has been voted Britain's sexiest FARMER.
Pretty sheep farmer Anna Simpson has ploughed down the competition to prove farming is not just about men, muck and wellies.
Anna spends her days training sheep dogs, driving tractors and helping with lambing. But the bubbly blonde admits she loves getting dolled up for a night out and swapping her wellies and waterproofs for mini skirts and make-up. She beat more than 300 hopefuls to become the new face of farming in a competition run by magazine Farmer's Weekly.
"I think many people believe a stereotypical farmer is a man in his 60's who wears wellies all day," she said.
"But I wanted to show farmers can also be young women, who want to get stuck in but also enjoy a night out."
Anna, who has previously won Rimmel's sexiest legs in Britain contest, was born and bred on her parent's farm near Stokesley in North Yorkshire with her two sisters Jacky, 27 and Katie, 23.
The farm, which has 250 acres of arable land and 800 breeding ewes, previously belonged to her grandparents.
Even as a toddler she would help her mum and dad, Jane and Tim Simpson, around the farm.
"As a baby I would sit in my pram and watch the sheep and as I grew older I helped out around the farm," she said.
"I particularly like working with the sheep and I help with lambing, worming and foot bathing, none of which is very glamorous.
"But I do make up for it on a night out when I dress up. A lot of people don't recognise me when I go out."
Anna, who is also a keen horse rider, spent two years at agricultural college after leaving school and is currently working four days a week at a farm shop.
She hopes to eventually take over the family business.
"I love farming and hope to take over the farm with my older sister and get even more sheep," she said.
She entered the competition after being persuaded by her family.
"I couldn't believe it when I won," she said.
"It has been fun doing photo shoots though and it would be fun to model farming clothes such as jackets and wellies."
Pete Mortimore, from Devon, was voted Britain's sexiest male farmer and both winners will be given a pair of wellies and £250.
Tim Relf, of Farmer's Weekly said: "We figured that there's so much bad news around at the moment that we wanted to bring a smile to people's faces with a lighthearted competition.
"With some youngsters reluctant to pursue careers in agriculture, we also wanted to dispel some of the myths about farming and show that it's as much of a fun and sexy business to be in as any other trade or profession!"
Appeared In