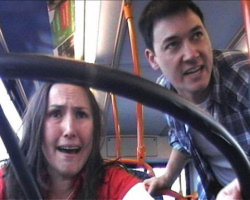 A film fan is making all his favourite blockbuster flicks into incredible mini ONE MINUTE movies.
Mark Wong, 35, has spent the last three years turning his best-loved films, including Speed, Pearl Harbour and Top Gun, into stunning slick 60 SECOND spoofs.
The movie buff even built a LIFE-SIZE aeroplane cockpit in his garden so he could act out his best movie moments in American war film Pearl Harbour. Mark spends up to nine months planning, directing and making each movie with the help of family and friends, then posts them on internet site YouTube, where he now has a big fan base.
"One minute isn't very long to recreate a whole film, you have to make it coherent but you only really have time to tell the basic story," he said.
"I've put a lot of effort into making the films, people really like them and I think they've got better and better.
"They look like Hollywood productions as they are shot in a clever way."
Mark's filmed his first miniature movie, Speed, on the buses in his home city of Cambridge.
"It was great fun. I jumped on buses and filmed for as long as I could, then I bought toy buses and used fire crackers to blow them up," he said.
The film was shortlisted in Empire magazine's Done In 60 Seconds competition, which challenges film-makers to create a one minute version of their favourite movie.
The following year his second film Pearl Harbour, also made it into the top five.
He condensed the three hour epic using a full-scale replica of the cockpit of a World War II P40 War Hawk plane and model war ships packed with fire crackers.
"It's a really long movie but it doesn't have that complex a storyline," he said.
"When you go to see it what you're really waiting for is the attack on Pearl Harbour, you don't need to see the whole two hours of love story building up beforehand, or the whole hour of America strikes back afterwards."
Now Mark, who works full time as an accountant, has just finished filming Top Gun, which he hopes may win this year's competition.
The famous film took nine months to plan, eight days to make and cost just £500.
Remarkably Mark, who plays Tom Cruise's character Maverick was given unprecedented access to a real fighter jet and shot many of the scenes at RAF Lakenheath and RAF Alconbury.
"The RAF had to check my script and go through a lot of hoops before I was allowed to film there. We had a military escort on the sites and were very privileged," he said.
"They even lent us their outfits so it all looks very realistic.
"It's a loving remake of the film and I'm pleased with the result."
Mark has plans to make more one minute films, including Gladiator, Jaws and Point Break.
He added: "It would be fun to do something with a huge cast like Gladiator or Jaws which would have lots of technical challenges."
Appeared In