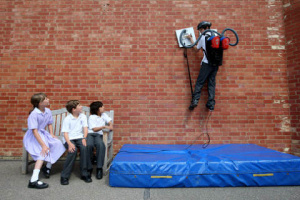 A boy has fulfilled his dream of being Spiderman by creating a gadget to help him scale the walls of his school.
Hibiki Kono, 13, who is a big fan of the superhero, made the incredible climbing machine using the suction from two Tesco Value vacuum cleaners.
The schoolboy then amazed his friends by using the giant suckerpads to climb the school wall during morning assembly.
"I used to dress up as Spiderman when I was younger and I love all the films so it's great to be able to climb walls like him," said Hibiki.
Hibiki spent five months designing and making the gadget in his design technology lessons at King's College School in Cambridge.
He used two 1400 watt vacuum cleaners, bought for just £14.98 each from Tesco and attached square wooden pads to the nozzles.
When he presses the suction pads on the wall they support his weight and enable him to climb just like his favourite superhero.
His design technology teacher Angus Gent said: "I'm hugely proud of him. When he came to me with the idea at the beginning I had my doubts, but once he proved it could be done I encouraged him.
"He developed it himself which is amazing for someone of his age.
"He has spent two and a half hours a week creating it over the last five months."
Hibiki, whose friends have been working on more regular technology projects such as coffee tables and remote controlled boats, says the gadget is great fun.
"I wanted to make something a bit different and I designed most of it myself," he said.
"My mum thinks it's brilliant but she won't let me us it in my bedroom as she is worried I may pull down the ceiling.
"I've climbed up the school wall but I'm not allowed too high. It's not scary and I completely trust the machine."
Headmaster Nick Robinson said he was very proud of Hibiki's invention.
"We're thrilled with his original thought and all his hard work," he added.
"He shows a real flair for design and inventive thinking. He went up a wall for assembly and it was amazing."
Appeared In