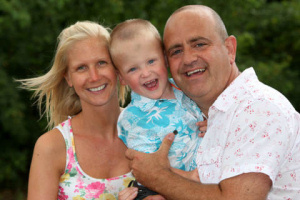 A toddler who was given a one in a million chance of surviving after he was born at just TWENTY-THREE weeks has stunned doctors by growing so much he is now bigger than children TWICE his age.
Little Nathan Sciberras (nee Brinkley), who is now two, has become one of the youngest-ever surviving premature babies to be born in Britain.
Doctors told mum Cara 28, he would probably be stillborn after she gave birth an incredible four months early – a week below the abortion limit.
But the tiny 1lb 8oz miracle, who fitted in the palm of dad Michael's hand, amazed medics when he was born breathing.
Now two years later Nathan is a healthy 3ft 1inch tall toddler who has developed no health problems and is bigger than his friends.
He is doing so well his mum and dad finally feel ready to talk about his traumatic birth.
"When I went into labour the doctors said the baby only had a one in a million chance of surviving because he was so early and breach," said Cara.
"We were told that if he wasn't breathing when he was born they wouldn't resuscitate him as they don't help children younger than 24 weeks.
"So we were absolutely stunned when he came out wriggling and amazingly he is now a healthy toddler with no medical problems."
Cara, who also has a son Joshua, four, raced into Milton Keynes hospital after her waters broke at just 23 weeks.
She was transferred to Southampton Hospital, which had specialised equipment for premature babies and went into labour three days later.
"The baby was breach so I was told that when he came out he would press against his umbilical chord and cut off his air supply," said Cara.
"They wouldn't let me have a caesarean as there was such a slim chance he would survive.
"I was in labour for 14 hours and I was just crying and crying because I was convinced he would be stillborn, so I couldn't believe it when he was breathing."
Cara and husband Michael, 38, named the baby Nathan, which means gift from God.
At 23 weeks all his vital organs had developed but he had no nipples, his eyes were still fused together and his ears were just little flaps of skin.
"He was the size of Mike's hand, really skinny and transparent, a bit like a crispy duck," she added.
"His body was covered in fluffy hair and the nurses had to mould his ears every day to help them develop.
"His nappy was the size of a credit card and even that was too big. He was so tiny we just kept looking at him and couldn't believe he had survived."
Nathan was wrapped in a tiny bag and placed in a special incubator, which resembled a womb.
He was too tiny to be given milk and was initially drip-fed liquids, morphine and caffeine to make him stay alert and remember to breathe.
The couple were finally able to cuddle him after three weeks.
Cara added: "The incubator looked like a tiny greenhouse and was always covered in condensation.
"He was wrapped in sleeping bag with blankets around him like a little nest.
"It was amazing as it was like watching him grow in a womb. He grew bigger and bigger everyday and at 26 weeks his eyes opened.
"We were told that he could have all sorts of health problems as he was born so early but remarkably he was fine and after two months we started to believe he would survive."
After six weeks in hospital he was transferred to the neonatal unit at Milton Keynes hospital where he spent the next three months.
"Each day he would be taken off a different medication and he was gradually moved from the incubator to the growing room to the nursery," she said.
"He finally came home a few days after when he should have been born.
"The doctors said he would be on oxygen for a year but remarkably he was taken off it after just two months."
Nathan, who is starting pre-school in September, now weighs 23lbs 3oz, and is just three inches shorter than his four-year-old brother Joshua.
He towers above some of Joshua's friends and he is now in the 90th percentile for his height, which means 90 per cent of his peers are smaller than him.
"He is now really tall and doesn't stop eating," added dad Michael, who also has a son Josef, from a previous relationship.
"He is a lovely affectionate little boy and we feel so lucky to have him."
The most premature surviving baby was born at 22 weeks in the US.
Only a handful of babies have been born in Britain at 23 weeks – many with health problems.
"It is great news that little Nathan is a healthy two and a half year old now and doing so well," said Andy Cole, chief executive for Bliss, a charity for premature babies.
"Only a handful of babies are born at such an early gestation and some will have life threatening health problems to overcome.
"However, most babies born prematurely do go on to lead full, healthy lives, though some born extremely early may face further challenges in the future.
"Although Nathan had such an early start in life it is great to hear he is doing so well and we wish him and her family all the best for the future."
Appeared In