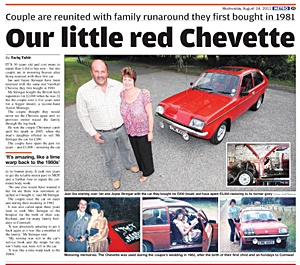 A couple have bought back and restored their first family car after selling it an incredible 25 YEARS ago.
Jayne and Ian Stringer first bought the red Vauxhall Chevette in 1981 and used it during their courting days, for their wedding and even to dash to hospital for the birth of their first child.
They sold it five years later as they wanted a bigger vehicle and thought they would never see it again. But amazingly Ian found the car again and bought it back for a SECOND time. He spent two years and £3,000 getting the car roadworthy and the last four years restoring it to its former glory.
"The Chevette was a great car and it was a real shame when I had to sell it. I thought I'd never see it again," said Ian, 51, from Boston, Lincs. It was absolutely amazing to get it back again as it was like a member of the family. My writing was still in the car's service book and the straps for my son's baby seat were still in the car. It was like a time warp back to the 1980's."
Ian bought the car brand new for £2,500 from a garage in Grimsby on August 1, 1981 when he was just 22 years old. Ian and Jayne, who he had met through work earlier that year, used the car to go out on dates and when they got married in November 1982 it was used to take their bridesmaids to the church.
"We went in a Rolls Royce and my dad drove the Chevette with the two bridesmaids inside," said Ian. "It was decorated with ribbons and after the reception it ferried us to the train station for our honeymoon and someone wrote just married on the back."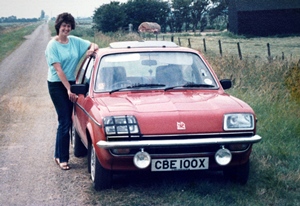 Three years later the car was put to test when Jayne went into labour with their first child and Ian had to make a dash through Boston to the local hospital. It was then fitted out with a car seat for their son Richard and used for several family holidays to the Cornish coast.
"There were no rear seat belts so I had to bolt straps to the back of the car to fix Richard's car seat in," said Ian.
In 1986 the couple decided the car had become too small for their family and they traded it in at their local garage.
"It had served us well, but after five years we needed a newer car," said Ian, who bought a second hand Austin Montego instead. "I thought that would be the last we'd see of the Chevette."

But amazingly one day the new owner, a man from Skegness, knocked on Ian's door after getting his details from the car's log book. He introduced himself and kept in touch with the couple through Christmas cards. Then in 2005, completely out of the blue, the man's daughter phoned to say he had died and the couple could buy the car back for £200.

"I was absolutely shocked, but very excited," said Ian. "The car was in a very dilapidated state and clearly hadn't been driven for a long time. There was corrosion on the panel work. No one else would have wanted it but for me there was sentiment attached so I bought it."
The car had to be completely stripped down to its shell and Ian spent the next two years and £3,000 rebuilding it and making it roadworthy with some help from a friend and mechanic Toni Sykes.
"Finding replacement parts was really hard and I spent hours on the internet," he said. "I drove all over the country collecting different parts and some of the smaller items even had to be shipped from abroad. It took a lot of time and effort but it was definitely worth it, I have rebuilt it back to factory specifications."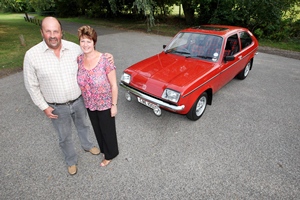 The car passed its MOT and Ian has spent the last four years bringing it back to its pristine newly-built condition.
"It is very surreal driving it again after all those years," said Ian. "It has no power steering, but it feels like I was driving it only yesterday. We now use it for special trips out and it does about 1000 miles a year. I'm really pleased we got the car back. I'd never have forgiven myself if it had been scrapped. I'm not usually a car fanatic but this one was like part of the family."
Our Story Appeared In