An Essex girl has beaten the rest of Europe to be crowned the sexiest vegetarian of the year.
Stunning Sophie Barrett, 21, beat hundreds of entries from across the continent to win the competition for the cutest and most compassionate vegetarian in Europe.
The blonde beauty, who became a vegetarian when she was just seven, entered the contest as she is committed to animal rights.
"I thought it looked like fun and a great way to promote being a vegetarian and show that it is very good for you," said Sophie, a beauty therapy student from Colchester. "There is a stigma that we don't look very healthy, but I wanted to show we have a normal lifestyle. I was absolutely amazed when I won as there was a lot of good competition. It's good to think an Essex girl has come top in Europe."

Sophie, who enjoys cooking vegetarian dishes for her family and friends, including hot spicy curries, stopped eating meat after hearing about the way animals raised for meat were treated.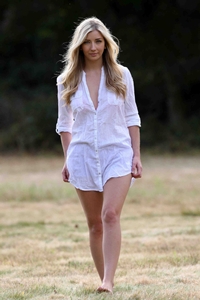 "After that there was no way I could ever eat meat again," she said. "No one else in my family is vegetarian but after I told them about how animals suffer most of them have cut down their meat intake."

Sophie came top in the contest, organised by PETA (People for the Ethical Treatment of Animals), after more than 20,000 people voted online for their hottest veggie.

"The competition was extremely close, but Sophie's commitment to the animal rights cause made her a favourite with the general public," said a spokesman for PETA. "As beautiful on the inside as she is on the outside, Sophie is the whole package and a perfect example showing that compassion is a real turn-on."

Sophie, who has five cats and lives with her mum and boyfriend, Phil, 25, added: "My friends and family are very proud of me."
Our Story Appeared In