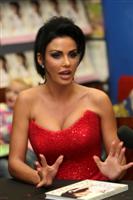 Jordan turned up to her book signing with her two youngest kids in tow.
Like many other working mums the 31-year-old model seemed to be struggling with childcare during half term week.
Single mum Jordan, whose divorce from Peter Andre was finalised last week, couldn't seem to find anyone to look after Junior, 3 and Princess Tiaamii, 2.
She looked like she had her hands full as she tottered into WH Smith in Chelmsford, Essex, in a sparkly red dress and red high heels with a child in each hand.
But luckily she had remembered to bring colouring books to keep the kids entertained as she signed hundreds of copies of her new book Standing Out: My Look, My Style, My Life.
"It is quite reassuring to see that Jordan is just like any other mum and has the same problems with juggling work and home life," said Tracey Clarke, 34, who was queuing to meet the model.
"The children seemed to enjoy being at work with mum and looked very happy."
There was no sign of lover Alex Reid at the signing fuelling speculation that the couple have split.
An estimated 2,000 people queued for several hours to meet Jordan.
Appeared In