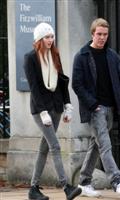 Supermodel Lily Cole chatted away on her mobile as she left lectures after her first week back at Cambridge University.
The 21-year-old looked like she was back in the swing of student life just a week after attending the glitzy premiere of her latest film.
The redhead was wrapped up warm for her second year studying History of Art at the prestigious university in a fluffy white bobble hat, mittens and scarf.
Her student attire was a far cry from the glamorous black and white dress she wore in London's Leicester Square for the premiere of Terry Gilliam's The Imaginarium of Dr Parnassus.
The film, which sees actor Heath Ledger in his last role, was released nationwide on Friday.
Lily, who has received rave reviews for her role as Valentina, has spent her summer holidays promoting the movie and attending glitzy showbiz parties.
Now it is back to her books and she looked happy and relaxed as she left with her classmates and made a quick phone call.
"Lily has been acting just like any other student and no one would guess she's just had a huge film released," said a student at King's College, who did not want to be named.
"You would think she's find it hard to concentrate but she's been attending her lectures."
Lily, who got a first for her first year exams, won a place at Cambridge University three years ago to study social and political sciences but took two gap years to concentrate on her modelling career.
She has recently spoken about dropping out of the university, but decided to come back for her second year.
Lily, who is the face of Rimmel, is dating Without a Trace actor Enrique Murciano who is based in the US.
Last year she caused a stir when she posed for a 14-page spread in Playboy wearing just white socks and holding a giant pink teddy.
Appeared In