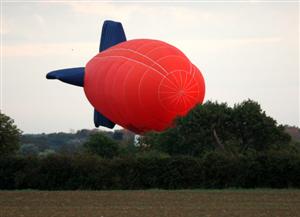 Another Top Gear stunt went wrong after the BBC car show tried to attach a caravan to an airship and it crashed into a field near a busy road.
The bright orange airship, which was carrying presenter James May, was meant to land on a cricket pitch in the picturesque village of Eltisley, Cambs.
Instead it was blown off course by strong winds and crashed on its side by trees and hedges half a mile away in a farmer's field by the A428.
BBC film crew frantically raced to the scene to check whether James May and the rest of the crew were injured.
They were unable to reach the airship but a helicopter filming the stunt gave them the all clear.
Emergency services were on stand-by but were not needed.
The stunt was believed to be the end of a race between James May in an airship and co-presenter Richard Hammond in a Lamborghini.
But the fading light and windy weather meant filming had to be called off and the stunt, for a programme in November, could not be repeated.
"I was walking through the village and suddenly this giant airship appeared carrying a caravan, it was a very strange sight," said Peter Clarke, 37, from Eltisley.
"I understand they were planning to land on the village cricket green in the middle of a match.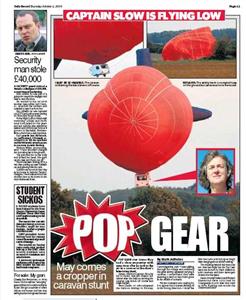 "All the cricketers were there dressed in their whites waiting for it to appear, but it started drifting off in the wrong direction.
"I think the film crew were a bit fed up as they'd been hanging around the village all day waiting for the wind to drop so they could film."
It is not the first time a stunt has gone wrong on Top Gear.
Richard Hammond suffered serious injuries in 2006 after a risky car stunt went wrong.
He was airlifted to hospital after a high speed crash in a souped up jet car which was going at 288 mph when it crashed.
He has now recovered from what was initially thought to be a permanent brain injury.
In 2008 Jeremy Clarkson had a miraculous escape after a high-speed car crash while filming the show.
He suffered minor injuries to his legs, hand and back in the head-on collision.
At the time he described it as his first serious road traffic accident in 31 years.
Appeared In