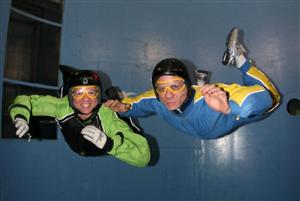 Here is James Bond as you have never seen him before in a lycra suit, goggles and silver trainers.
Daniel Craig, who plays secret agent 007, spent months learning to body fly for a spectacular 160mph stunt sequence in new movie Quantum of Solace.
He was joined on set in the huge wind tunnel by Bond girl Olga Kurylenko, who plays Camille.
"We had a cameraman inside the wind tunnel, so we were flying in there with hard, heavy objects. It was extremely difficult – and very dangerous," said Daniel Craig recently.
Olga Kurylenko added recently: "It's a very physical experience – you can't imagine how hard it is.
"You have to lie on the air, but then move by putting your arms and legs into shapes.
"The first time, I did it for five minutes, and when I came out I couldn't move. The next morning I couldn't lift my arms. But by the end I could stay in the air for half an hour."
The amazing freefall stunt comes in the film after Bond and Camille's old DC-3 propellor plane gets shot down over the desert.
The special effects sequence was shot at the Bodyflight centre in Bedfordshire using CGI backgrounds.
"The crew filmed for three days but Daniel and Olga were here training for three months before that," said Bryony Doughty, director at Bodyflight.
"They would come once or twice a week to practice. There is a lot of skill involved in freefalling as you have to maintain a stable position so it takes a long time to learn."
One of Bodyflight's own instructors stepped in as Craig's stunt double for some of the harder stunts.
Bryony added:"It's not dangerous, just tricky and they both picked it up very well. They were a lot of fun to work with."
This is the second consecutive bond film to be shot on location in Bedfordshire.
The Aston Martin car crash scenes for Casino Royale were shot at Millbrook Proving Ground in Bedfordshire, which doubled for Montenegro.
Appeared In