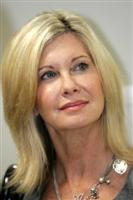 She has just become a pensioner but actress Olivia Newton-John still sees herself as Sandy, the character which shot her to fame in hit film Grease 30 years ago.
Olivia may have just turned 60, but with long blonde hair, a sparkling smile and healthy tan, she certainly looks every bit the same as when she starred opposite John Travolta in those famous skin tight trousers.
And the film star, who was at Addenbrooke's Hospital, Cambridge, today (Wed) to launch a new breast cancer campaign, even signed herself "Sandy" when she gave her autograph to a doctor's son starring in a school play of Grease.
"Good Luck as Danny, Love Sandy" she wrote in the letter to Joe Wilson, who is playing lead Danny Zuko in the Perse School production of the show in Cambridge and whose dad Dr Charles Wilson is a breast oncologist at Addenbrooke's.
"She looked absolutely stunning and all the doctors stopped to look at her," said a nurse at the hospital, who did not want to be named.
"It's hard to believe she is 60, she doesn't look much older than when she played Sandy in Grease. I bet she could still fit into those trousers too."
Olivia, who was dressed in a smart grey skirt and knee high black boots, couldn't stop smiling as she held hands and cuddled with new husband John Easterling, who she credits with helping her stay so young.
The actress married 56-year-old Australian entrepreneur Easterling in a mountain-top ceremony in Peru and had a secret ceremony at her home in Malibu, California six months ago.
She has told family and friends that she is now happier than ever and stays fit by walking her dog, playing tennis and going to the gym three or four times a week.
"I think the secret is I'm very, very happy. I have a wonderful new husband and we're very compatible," she said in a recent interview.
Olivia, who was born in Cambridge, but grew up in Australia, was diagnosed with breast cancer in 1992 as she was about to embark on a US tour.
She underwent eight months of chemotherapy, balanced with meditation, yoga, prayer and acupuncture.
"It was very scary being diagnosed with breast cancer, but I'm still here," she said today (Wed), as she helped launch the Pink Rose Valentine's Appeal at Addebrooke's to raise money for the breast cancer unit.
Olivia divorced Matt Lattanzi in 1993 after he had an affair and was left distraught in 2005 after the sudden disappearance of her boyfriend Patrick McDermott.
Appeared In