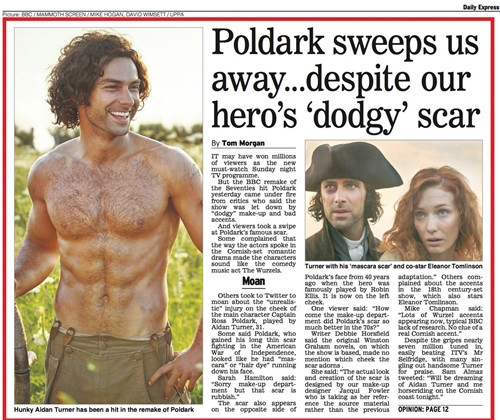 Viewers have criticised the BBC for "dodgy" make-up in the first episode of new Cornish drama series Poldark.
Many have taken to Twitter to complain about the unrealistic scar on the cheek of main character Captain Ross Poldark, played by actor Aidan Turner. Some said Poldark, who gained his long thin scar fighting in the war of independence in America, looked like he had "mascara" or "hair dye" running down his face.
Viewer Becky Newcombe tweeted: "Make-up artist who did Poldark's scar should be shot."
Sarah Hamilton added: "Sorry make-up department but that scar is rubbish #Poldark."
Fan Sian Notley tweeted: "How come the make-up department did #Poldark's scar so much better in the 70s?"
Irene Fraser wrote: "They might have given him a more realistic scar. It looks like his hair dye has run." Whilst Lucie Cave added: "Has #Poldark got a bit of mascara that's been running down his face for the last few scenes or is it a sweaty piece of hair?"
Others complained that maid Demelza looked as though she had perfect make-up, despite being rescued from poverty. Jo Sheinman tweeted: "Looks like Demelza found a stash of make up in Poldark's booze cabinet!" Whilst Lucie Toblerone added: "Ooh Demelza's been to the Mac make-up. Frosted lippy and berry mascara #Poldark." Ali Dunwell tweeted: "The make up in Poldark was as dodgy as the Cornish accents!"
Even TV presenter Kirstie Allsopp wrote: "Make-up may be dodgy but the Cornish coastline is looking mighty pretty in #Poldark."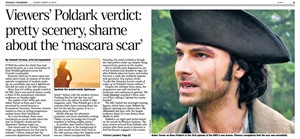 Many viewers also noted that there was more "brooding" in Poldark than in recent ITV crime drama series Broadchurch, which was noted for its scenes on the Dorset cliff tops. Michael Lee tweeted: "There's more staring at the sea in the first 20 minutes than an entire series of Broadchurch #Poldark." Tony Mears tweeted: "There was brooding, brooding, and a little more brooding …maybe ep 2 will have more things. #Poldark." Sue Davies wrote: "Ah gazing in the style of #Broadchurch already in #Poldark." Whilst Geraint Jones added: "Good to see @BBCOne pushing boundaries with #Poldark. Landscape, brooding shot of face, landscape, cut to brooding shot of face, repeat …"
Poldark is an eight-part series based on the novels by Winston Graham. A similar TV series with the same name was broadcast between 1975 and 1977 and was hugely popular. The story is set in Cornwall in the 18th Century and centres around Ross Poldark, who returns to his tin mines after three years fighting in the American War of Independence. On returning he finds that his father has died and his fiancée Elizabeth is now engaged to his cousin. In the first episode he takes on a new kitchen maid Demelza after rescuing her from the market place, where she is beaten by locals.
Our Story Appeared In