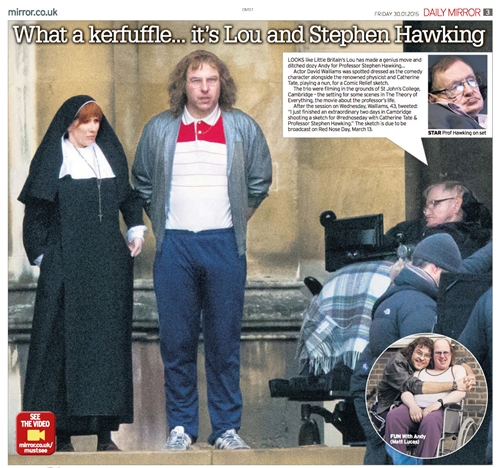 Comedian David Walliams has been spotted filming a sketch for Comic Relief with Catherine Tate and Professor Stephen Hawking.
The actor was seen dressed as the character Lou from Little Britain, who looks after wheelchair-bound Andy, played by Matt Lucas, in the series.
But this time Matt Lucas was replaced by Professor Hawking in the comedy sketch, which is due to be broadcast on Red Nose Day.
Walliams was also joined by comedian Catherine Tate, who was dressed as a nun, as they filmed the scenes in the grounds of St John's College in Cambridge.
The comedians initially rehearsed the scenes with a stunt double for Hawking, but the disabled genius arrived later in the afternoon for the actual filming.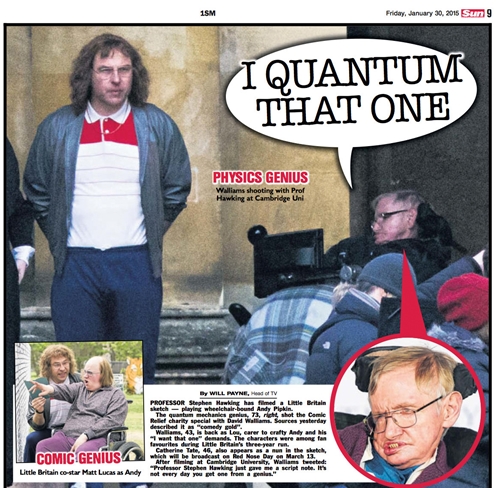 Some of the filming was done on the grass with people punting on the River Cam in the background, whilst other shots were within the college buildings.
Walliams revealed on television earlier this week that he would be filming with Hawking and he later tweeted: "Professor Stephen Hawking just gave me a script note. It's not every day you get one from a genius."
St John's College was also the setting for some of the scenes in the film about Hawking's life, The Theory of Everything, which premiered last year and received four Golden Globe Award nominations.
Our Story Appeared In