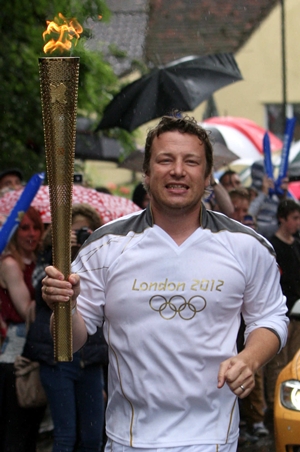 Celebrity chef Jamie Oliver was joined by his family as he ran with the Olympic Torch through the village where he went to school.
Thousands braved the rain to watch the 37-year-old run through the High Street in Newport, Essex.
Jamie, who now lives in nearby Clavering, was cheered on by wife Jules, daughters Poppy, Daisy and Petal and son Buddy.
Jules and the children even ran along the pavement so they could be with him every step of the way.
They wore raincoats and Union Jack hats to show their support.
Jamie, who studied at Newport Free Grammar School, was supposed to run 300 metres but ended up running two sections of the route, around half a mile, as another torchbearer is believed to have dropped out.
The torch was making its way between Chelmsford and Cambridge.
Jamie was brought up in Clavering and his parents still run the Cricketers pub there.
Our Story Appeared In