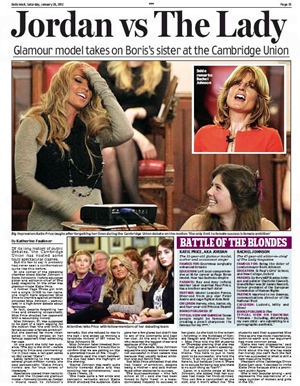 Glamour model Katie Price WON a high brow debate at the historic Cambridge Union.
The 33-year-old admitted she was not very good at speaking and looked nervous at the start as she gave her 10 minute speech in front of 800 Cambridge University students.
But despite forgetting her lines, the former page three model, who was debating the issue of female success and ambition, beat the opposing team and got a loud cheer from the audience.
Katie was part of a team opposing the motion: 'This house believes the only limit to female success is female ambition' and clashed with Boris Johnson's younger sister Rachel, 47, editor of The Lady, who was on the other side.
"The sky is the limit or in your case a 10 part series on Sky called Katie," said Rachel, drawing gasps from the audience. Then added sarcastically "Katie Price's novels are for real lovers of literature." Rachel later tweeted from inside the Chamber: "I would like to confirm that we are getting on like a proverbial house on fire, cough."
The students showed strong support for Katie who admitted she works hard in order to support her three children. She said she never lost belief in herself and told the students "it's all about reaching your goals." But Katie, who has proved to be a shrewd businesswoman, said "you have to be realistic" and admitted she had never been particularly bright at school. "If you play Trivial Pursuit with me I will definitely lose," she joked.
The model admitted the biggest regret of her career was singing in the Eurovision song contest. She said she didn't know why she entered the 2005 contest with the pop song 'Not Just Anybody.' "I've made lots of mistakes, but I have got no regrets apart from the Eurovision, I don't know what I was thinking." The former page three model, later revealed her motto was 'There is no such thing as can't, because I can.'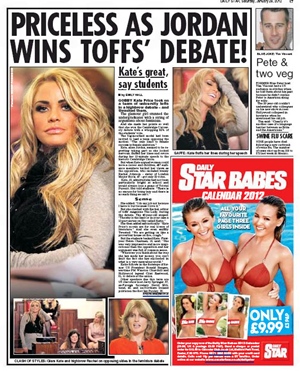 Two security guards were on the Union door and students were banned from taking photos throughout the evening. Katie follows in the footsteps of former US President Ronald Reagan, Prime Minister Winston Churchill and Clint Eastwood.
Before the event, President of the Cambridge Union, Katie Lam, said: "I decided to invite Katie Price because she's a prominent public figure who is very popular among and represents the aspirations of a large number of women and girls in the UK, and I thought her perspective would be a valuable one to add to the debate. I haven't really seen her speak in this kind of context, but I think it will be great to hear from her and for students to be able to understand and challenge her point of view."

The Union has developed a worldwide reputation as a place for free debate. Other speakers this term include American chat show host Jerry Springer, former Foreign Secretary David Milliband and former Northern Ireland politician The Rev Ian Paisley.

.
Our Story Appeared In