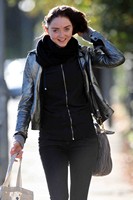 Supermodel Lily Cole has DYED her trademark natural red hair for the first time.
The 22-year-old, who is known for her firey orange locks, was spotted with dark BROWN hair after returning for the new term at Cambridge University.
Lily, whose combination of porcelain skin and red hair initially captivated talent scouts when she was just 14, was seen hiding her new hairstyle under a bright orange hat.
The model, who has also dyed her eyebrows dark brown to match, looked a far cry from her usual image.Lily's, whose auburn locks have previously won her contracts with M&S and Rimmel, has said she was teased as a child for having red hair.
"When I was younger I definitely did face anti-ginger prejudice. As a child all teasing hurts, whether it's because you're fat or a different race or have red hair," she said recently.
Lily, who is studying History of Art has reluctantly left her American boyfriend behind to return for her third year at Cambridge University. She achieved a First in her end of term exams and hopes to repeat the feat in her finals next summer. But Lily, who is at prestigious King's College, has admitted she would rather be in Los Angeles with actor boyfriend Enrique Murciano, 37, than studying. She plans to move to America to be with the star who plays an FBI agent in the detective series Without A Trace after she graduates.
"Enrique is working on a TV series while Lily is back in Cambridge focusing on her finals and dissertation," a friend was reported saying recently.

"She hasn't got time to see Enrique and it upsets her greatly. They see each other sporadically, but she wants to be with him all the time."

Lily, who has appeared in films St Trinian and The Imaginarium of Doctor Parnassus is also said to be planning to concentrate on her acting career after leaving Cambridge. She was recently cast as Alice in Marilyn Manson's fantasy horror film, Phantasmagoria: The Visions of Lewis Carroll, but the movie has been shelved as the trailer was said to be too disturbing.

The model, who currently divides her time between studying in Cambridge and working in London, has also said she plans to marry Enrique. She has been spotted on several occasions wearing what appears to be an engagement ring on her wedding finger, but she has denied rumours that they are tying the knot soon.

Lily's modelling career began at the age of 14 when she was spotted in a burger bar by a modelling scout from Storm, the agency that discovered Kate Moss.

Naturally ginger star Nicola Roberts has also dyed her hair this week – a bright orange colour.
Our Story Appeared In