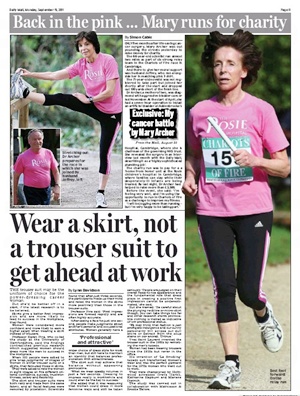 Novelist Jeffrey Archer ran by courageous wife Mary's side at a charity race as she made her first public appearance since overcoming a potentially fatal form of bladder cancer.
The former politician was NOT registered in the race but wanted to be by his wife's side as she bravely ran 1.7 miles just FIVE MONTHS after undergoing major surgery to have the diseased organ removed.
Out of sight of the judges, Lord Archer sneakily joined the race 200 metres after the start and pulled out 100 metres before the finish so he could support Dr Archer in the famous Chariots of Fire relay race.
Dr Archer, 66, who only discovered she had an aggressive form of cancer last November, looked delighted as her husband jogged along with her through the scenic streets and colleges of Cambridge. Before the race she said he had been a huge support throughout her battle with cancer and had helped her prepare for the race.

"Jeffrey and the rest of my family have been terrific and encouraged me to get up and about after my operation," said Dr Archer. "I think when you are not feeling well after major surgery it makes you feel so much better if you have help and support from your family."

Dr Archer, an energy scientist, was diagnosed with cancer at the end of last year after finding blood in her urine. But it was caught at an early stage and she was offered a choice of either chemotherapy, with a chance of the cancer returning, or an operation to replace her bladder. At the beginning of April she had a seven-hour operation at Addenbrooke's Hospital in Cambridge to fashion a new bladder from part of her intestine.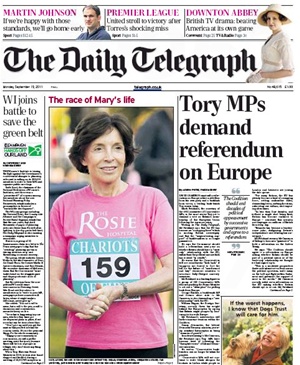 But Dr Archer said she now feels "fully fit" and has been jogging and swimming in preparation for the charity run.

"I have been out jogging near my home in Grantchester and I have been swimming up to 80 lengths in the staff pool at the Cambridge University hospital," she said. "I feel fully fit again now and am looking forward to the race as long as it's not too windy and wet as I'm a bit of a fair weather runner. I'm confident I will get round, but I'm not sure if I will do a particularly fast time. I feel very fortunate that my cancer was caught in an early stage and the operation that I had was curative. I have no apprehension that it will return."

Dr Archer has been a regular competitor in the race, which follows in the footsteps of the famous film of the same name and this year raises money for the Rosie maternity hospital in Cambridge. She has just announced plans to retire as chairman of the governing NHS trust at Addenbrooke's next October and says her illness has made her re-order her priorities.

"Working long hours has become less attractive as compared with ensuring you feel well and all around you is well," she said. "I realise it's more efficient not to push myself too hard."

The race was started by Britain's top Olympic swimming legend Duncan Goodhew, who won Olympic Gold in the 100 metre breaststroke at the 1980 Olympics.
Our Story Appeared In