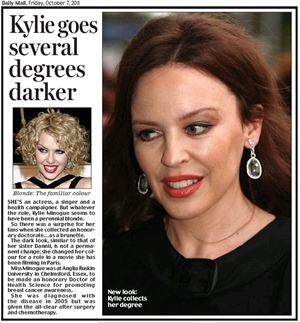 Pop princess Kylie has become Dr Minogue after receiving an honorary degree for her work promoting breast cancer awareness.
Kylie, 43, was diagnosed with the disease in 2005 and had surgery and chemotherapy before getting the all-clear a year later.
She received an honorary Doctor of Health Science award from Anglia Ruskin University in Chelmsford, Essex, at a special ceremony.
The Australian star, who has recorded more than 30 top 10 UK singles over a career lasting more than 20 years, was all smiles as she paraded into the ceremony.
"I haven't got one of these in my wardrobe," she joked as she showed off the blue and gold doctoral gown, which she wore over a black top and trousers. Kylie, who is currently brunette after shooting a film in Paris, then spoke to around 220 graduates from the faculty of education about her own battle for health.
She said: "I never went to university so my dad will be very proud when he sees the pictures. I am here partly for the work I do promoting breast cancer awareness. When you are diagnosed yourself it becomes a lot more real and you appreciate at first hand the hard work that goes on to support patients through it."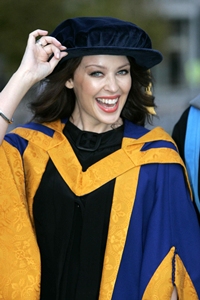 Kylie was diagnosed with breast cancer six years ago during her Showgirl world tour. She was initially misdiagnosed, but persisted in getting an accurate diagnosis for the lump found in her left breast. After getting more medical opinions she was found to have an aggressive type of breast cancer, which after treatment is now in remission. She has always bravely publicly discussed her cancer diagnosis and treatment, which has encouraged millions of young women to have regular checks. Last year she also fronted a breast cancer charity campaign, Fashion Targets Breast Cancer.
The Helen Rollason Research Laboratory is based at the university's Essex campus and scientists are currently researching blood markers that could eventually help with the early diagnosis of breast cancer.
After the ceremony, she said: "Cancer is like going into war and you have to draw on everything you've got to fight it. Fighting disease in the spotlight was both a blessing and a curse. A curse because of the constant attention but a blessing because of the love and support I received from complete strangers. I want people to realise that cancer research is something real which makes a real difference to people's lives and, when you've been through it, you have a real appreciation of how important it is."
Around 2,500 students at Anglia Ruskin University are being joined by 12 honoraries from the fields of music, sport, fashion and literature this week as they celebrate their graduation. Other recipients include novelist Jilly Cooper who has been given an honorary Doctor of Letters for her services to journalism and literature, swimmer Mark Foster and leading fashion designer Anya Hindmarch.
Professor Michael Thorne, Vice Chancellor of Anglia Ruskin, said: "We wish them every success in their chosen careers and hope they will be inspired by the stories of our honorary graduates and achieve great things in life."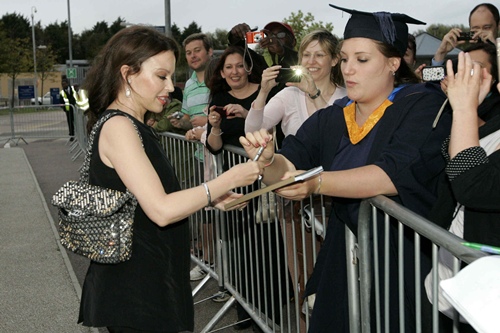 Kylie has sold more than 68 million records worldwide and has previously been awarded an OBE for her services to music. She began her career as a child actress on Australian television and famously starred in television soap opera Neighbours.
Our Story Appeared In