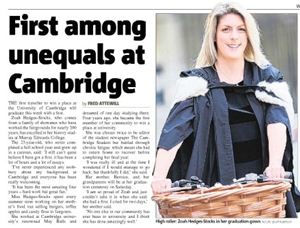 A woman who was born into a family of travelling showmen has amazed her family by gaining a FIRST in her final exams at Cambridge University.
Zoah Hedges-Stocks, whose family has been working the fairgrounds since the early 1800s, is graduating from the prestigious university this week. The 23-year-old, who never completed a full school year and grew up in a caravan, spent every summer term working on her mum's food van selling burgers, toffee apples and candy floss to fairgoers.
Now amazingly she will be graduating from the world-renowned university with a First in History, after studying for three years at Murray Edwards College.
"I still can't quite believe I have got a First, it has been a lot of hours and a lot of essays," she said. "All my family and friends are really pleased for me and it is nice to feel I have everyone's support. I've never experienced any snobbery about my background at Cambridge and everyone has been really welcoming. It has been the most amazing four years, hard work, but great fun."
During her time at the university Zoah was chosen twice to be editor of the student newspaper "The Cambridge Student". But at the beginning of her third year in January 2012 she started suffering from chronic fatigue and had to go home and recover.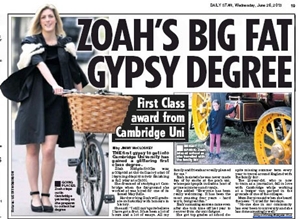 "I was really ill and at the time I wondered if I would manage to go back, but thankfully I did," said Zoah.
She returned to complete her final year in September 2012 and amazingly excelled in her course.
"I am so proud of Zoah and just couldn't take it in when she said she had a First. I cried for two days," said Zoah's mum Bernice. No one else in our community has ever been to university and I think she has done amazingly well."
Zoah's mother's family have been travelling showmen since 1821 and when they are not on the road they live on a plot in Suffolk. Zoah lived in a caravan until she was 14 when her mum, Bernice, bought a trailer. She went to her local school but missed the summer term each year to travel with her family to fairs across East Anglia. She helped her mum run the burger van, while her uncle had a set of dodgems, inherited from her grandfather. She said working at the fair was incredibly hard work with 14 hour days and fat burns from frying burgers. One of her favourite destinations was Midsummer Fair in Cambridge, where she has many happy childhood memories.
"The reason I wanted to go to Cambridge University in the first place was because it was the only university I knew," she said. "When I went to the open day at Cambridge with my mum I didn't even know what a university would look like."
Although Zoah missed a lot of school she excelled academically, passing her GCSE's and getting top grades at A-level. Zoah has now been offered a place on a journalism training course, which starts in January.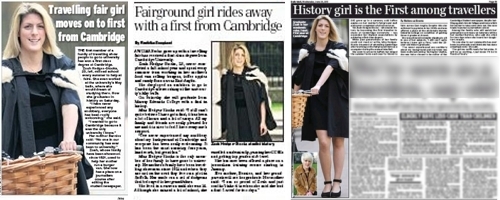 Our Story Appeared In