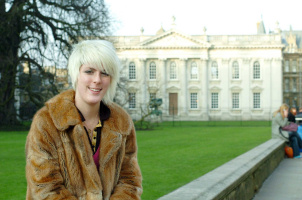 A girl who has spent her life working with a travelling fair and never completed a full school year has won a place at Cambridge University.
Zoah Hedges-Stocks, 20, was born into a family of travelling showmen, who have been working the fairgrounds since the late 1800s.
She grew up in a caravan and spent every summer term working on her mum's food van selling burgers, toffee apples and candy floss to fairgoers.
She would also work at Cambridge University's prestigious May Balls and dream of one day studying there.
Now amazingly she has achieved her childhood ambition to study history at Cambridge after winning a place at Murray Edwards College.
Zoah, who has just started in her first year, is the first member of her community to apply to university. Just a few generations ago her ancestors couldn't even read or write.
"Among travelling showmen it's often felt that education isn't that relevant: you know what you're going to do with your life – settle down with a nice traveller boy and work on the fairs – so once you've got the basics you don't need any more than that," she said.
"But, before I even knew what university was, a primary school teacher told me I was bright and could go to university, so I thought that's what I would do.
"A lot of people in my community didn't really get it.
"Cambridge was the only university they had heard of and they didn't understand the application process was selective – they assumed you could simply walk in.
"But this wasn't to do with ignorance it's just not really part of our world."
Her mother's family have been travelling showmen since 1821 and when they are not on the road they live on a plot in Suffolk.
Zoah lived in a caravan until she was 14 when her mum, Bernice, bought a trailer.
"It was amazing. We had free-standing furniture which was really exciting: I used to watch Changing Rooms as a kid and dream about having it," she said. "And I had my own bedroom for the first time, complete with a four-poster bed."
Zoah went to her local school but missed one term each year to travel with her family to fairs across East Anglia.
She helped her mum run the burger van, while her uncle had a set of dodgems, inherited from her grandfather.
She said working at the fair was incredibly hard work with 14 hour days and fat burns from frying burgers.
One of her favourite destinations was Midsummer Fair in Cambridge, where she has many happy childhood memories.
"The reason I wanted to go to Cambridge University in the first place was because it was the only university I knew," she said.
Although Zoah missed a lot of school she excelled academically, passing her GCSE's and getting top grades at A-level.
She was then accepted onto a summer school at Eton for potential Oxbridge students, which made her more determined than ever to get to Cambridge.
"My mum cried when I got accepted to Cambridge," she said. She said her first week at Cambridge was "terrifying" but she has now settled in and believes her background has helped her. "I'm very bolshie and self-confident," she said.
"I think a lot of working class people can feel out of their depth at Cambridge, but I don't have that problem, I'll talk to anyone."
She also thinks her background helped to influence her choice to study history.
"Some of my favourite childhood memories are sitting on my Grandad's knee and listening to him telling stories.
"There's a lot of sense of heritage and tradition in our community and that certainly influenced me.
But she doesn't see herself staying in the family business after graduation.
"I'd like to branch out, after all we've been doing the same thing for the past 200 years. I'd love to go into journalism," she said.
"But I know this will always be a part of me and always be there for me to go back to."
Appeared In