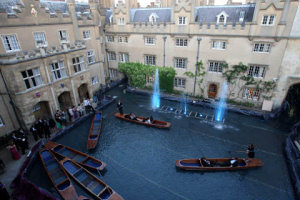 Clever students at one of the few Cambridge University colleges not on the river have created a CANAL so they can punt at their May Ball.
A team of undergraduates at Sidney Sussex have spent a week building the incredible 200 metre canal
This holds a massive 88,000 gallons (400,000 litres) of water and snakes through the 16th Century college courts.
Guests at this year's May Ball, which has a Venetian theme, were even able to punt on the fake waterway, which flows into a huge lake in the centre of the ancient college.
"The theme of our May Ball is Venice so we came up with the idea of building a canal," said Denver Sheridan, 21, president of the May Ball committee.
"Other colleges in Cambridge have punting along the river, but we can't do that so we decided to build our own waterway.
"We thought it would be lovely to be able to actually punt through our college.
"It has taken a year to plan and a week to build but we're really pleased with the result."
Students have spent £5,000 making the u-shaped canal, which has been constructed with scaffolding and plastic lining.
Phd undergraduates Adam Lawrance-Owen and Rob Weatherup spent months designing the river and it has taken a team of 10 more than a week to build
Eight punts were on hand last night (Wed) to chauffeur the 1200 guests down the canal to the massive 20 metre by 20 metre lake, which takes up an entire court in front of the dining hall.
"The rest of the college was decorated to look like historical Venice and the punts dropped guests at pretend ports along the canal," she added.
"We thought the theme of Venice with its gondolas would be a bit of an unusual twist on Cambridge punting."
Tickets for the ball cost £110 and guests were treated to lavish Italian food, chocolate fountains and continental cakes.
The canal will be dismantled today (Thurs).
Sidney Sussex, which was built in 1596, lies in the centre of Cambridge and has 350 undergraduates.
It has produced five Noble Prize winners and famous alumni include Oliver Cromwell, TV presenter Carol Vorderman, politician David Owen, former MPs John Patten and Ian Lang and even Sherlock Holmes.
A huge indoor canal, measuring a quarter of a mile, was created at the Venetian hotel in Las Vegas in 1999.
Gondolas take passengers on a journey past shops and cafes underneath a blue ceiling made to look like the sky.
Appeared In