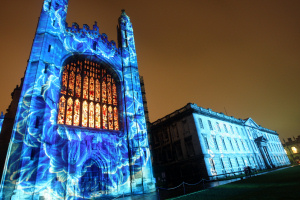 Cambridge University was illuminated with images of galaxies, fruit flies and plant cells during a spectacular light show to celebrate the end of the institution's 800th birthday year.
Thousands are expected to watch the specially commissioned show as it is repeated over the next three evenings.
The pictures showing how research at the university is transforming the future were projected onto its most famous buildings, including the iconic King's College Chapel and Regent House.
The colourful display, entitled Transforming Tomorrow, was inspired by the life-changing research and academic work taking place at Cambridge.
It included a video installation with spinning and moving pictures examining the interaction between art and science, which was projected onto the Senate House.
An array of images from the Cambridge Neuroscience Centre, including mouse skin and zinc oxide platelets, were seen on King's College Chapel.
While the famous Gibbs Building featured pictures of research in the physical sciences, from galaxies and nebulae to fruit flies and plant cells.
The show was produced by artist Ross Ashton, who has worked on a number of large-scale projections across enormous surfaces, including a mountain in Oman and the Queen's Golden Jubilee at Buckingham Palace.
Geoff Morris, Head of the University's 800th Anniversary Year, said: "Eight centuries of achievement have left Cambridge with plenty to celebrate, but the best way to bring the anniversary programme to a close is by looking forward to the next 800 years.
"The University of Cambridge transforms not only the lives of its students and staff, but those of countless others through the world-leading research that takes place within its walls.
"We look forward to welcoming people to this year's light show and to giving them the chance to witness a display based on work that is underway today and could soon be transforming tomorrow."
The university, which has organised numerous events throughout its 800th anniversary year, was founded after scholars from Oxford gathered to study at the ancient Roman trading post of Cambridge in 1209.
It now plays host to 18,000 students and has an annual turnover of almost £1 billion.
It has been home to some of the most important scientific breakthroughs in history – including the splitting of the atom, invention of the jet engine, as well as the discoveries of stem cells, plate tectonics, pulsars and the structure of DNA.
Appeared In