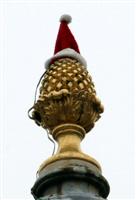 A SANTA hat put on a Cambridge University college roof as a prank had to be removed by THREE fire engines because it was considered a health and safety risk.
Students fastened the red hat to the spire of the famous Gate of Humility at Gonville and Caius College as an end of term joke.
But college authorities failed to see the funny side and phoned the fire brigade to remove the hat from the top of the 60ft building in case it fell on someone's head.
A team of more than 10 firemen and three fire engines then spent more than an hour using a hydraulic platform to get the hat down.
"When we saw three fire engines turn up we thought they must be there to tackle a really big fire," said a local shopkeeper.
"We couldn't believe it when we discovered they were all there just to rescue a Santa hat.
"They used the hydraulic platform to reach it and took a long time. Quite a crowd gathered to watch."
An unnamed student, who saw the incident, added: "I watched it all and found it hilarious.
"They even had to cordon off the road, which caused a tailback of cars."
A Santa hat has also been spotted on The Octagon of nearby Clare Chapel, although this one has not yet been removed.
The culprit currently remains a mystery, but it is thought to be a student playing a practical joke.
It is also not known how anyone managed to scale the buildings, particularly the spire of Humility, which is thought to be impossible to climb.
One suggestion is that the person used the famous book The Night Climbers of Cambridge, originally published in 1937, which offers a guide onto the roofs of the city's ancient buildings.
"In my experience the spire of Humility can not be climbed, although if there's a similar hat at Clare's it suggests someone has scaled the buildings," said a student, who does not want to be named.
"A likely possibility is that someone has accessed the spire from inside the college."
According to Cambridge University's Varsity newspaper, the Senior Tutor for Gonville and Caius College said the prank was "disturbing" because of the danger it posed to climbers and passers-by and said anyone found taking part would face serious disciplinary measures.
Gonville and Caius was founded in 1348 and now has nearly 100 fellows and more than 700 students.
Famous alumni include Alastair Campbell, Jimmy Carr and Ken Clarke, while Professor Stephen Hawking is a current fellow of the College.
Physician John Caius was responsible for the building of the College's three gates, which symbolise the path of academic life.
Students enter the Gate of Humility when they matriculate, then pass through the Gate of Virtue and finally go through the Gate of Honour on graduatio
Appeared In