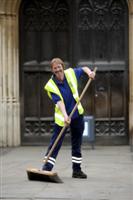 A ROAD SWEEPER who usually cleans up after the honorary degree ceremonies at Cambridge University is now receiving the prestigious award himself.
Over the past 500 years many great historical figures have been honoured by the university, including Albert Einstein, Mother Theresa, Nelson Mandela and Professor Stephen Hawking.
Now the university is bestowing its highest accolade on street sweeper Allan Brigham, 52, who has been cleaning the city of Cambridge for the last 30 years and has become one of its most popular tour guides.
"It was a lovely surprise when I heard the news and totally unexpected," said Mr Brigham.
"I have spent years sweeping outside the Senate House watching other people go in to get their degrees and I never dreamed that one day that would be me.
"I looked down the list of all the influential people receiving degrees this year and they were all people everyone has heard of, then there was me.
"It's a really great honour and I can still hardly believe it."
Mr Brigham moved to Cambridge from Yorkshire 30 years ago intending to train in the city as a teacher but when that didn't happen he fell into the job of street cleaning.
In order to earn some extra cash he decided to show tourists around the city in his spare time and is now also an official Blue Badge Guide.
The honorary Master of Arts degree is for the work he has done in opening up the city to the people who live there.
"I originally moved to Cambridge to stay with a friend and I didn't like the city because it seemed too flat and boring," he said.
"I thought I'd only be here a few weeks but 30 years later I'm still here and I've completely changed my mind about Cambridge.
"Now I think it's wonderful and one of the best cities in Western Europe and I feel really privileged to live here.
"I really enjoy showing people around and helping them discover more about the city, it's very satisfying."
Mr Brigham, who works for the city council, starts his cleaning work at 6am every day and admits the job is tough.
"It's certainly not the job I ever planned to do, it's very hard work, I have to get up early and by the end of the day I really ache," he said.
"But I like working outside, it's satisfying when I look down a road and see that it is beautifully clean and the job has helped me discover Cambridge in a way I wouldn't have done otherwise.
"I have swept all over Cambridge and have got to know all the roads, alleyways and parks and met all sorts of people.
"My job has given me a unique view of the city and streets of Cambridge."
Mr Brigham's day job has certainly helped him in his role as tour guide.
Over the years he has learnt a huge amount about the history of the city and he is now chairman of the city's Folk Museum.
"I originally became a guide to earn some extra cash, then I realised it was harder than it looked," he said.
"To start with it was rather daunting but gradually I learnt more and more about Cambridge.
"Now I'm starting tours for local residents as I often find the people who live here know less than the tourists about their city."
Mr Brigham, who was nominated for his honorary degree, admits he is nervous about picking up the distinction at a special ceremony in the Senate House on July 18 from the Duke of Edinburgh, who is chancellor of the university.
He said: "I'm starting to feel a bit nervous now. I know I've got to get myself a gown and a hat.
"But it's a real honour and nice to have a bit of ceremony now and then."
A Cambridge University spokesman said today (Mon): "I can confirm that Mr Brigham will be getting an honorary MA on July 18.
"Mr Brigham is well known by everyone in Cambridge for his transparent love and enthusiasm for the city, its history, its buildings and the people."
The university gives out around nine honorary degrees every year to people who have done good service for their country and foreigners of distinction.
Anyone can propose a person for an honorary degree and nominations are then considered by the University's Council, chaired by the Vice-Chancellor.
This year's recipients include Microsoft billionaire Bill Gates and his wife Melinda Gates and Sir Miles Hunt-Davis, private secretary to the Duke of Edinburgh.
Among the past recipients of honorary degrees are: David Attenborough, Stephen Hawking, Archbishop Desmond Tutu, Ted Hughes and Sir Alec Guinness.
Appeared In