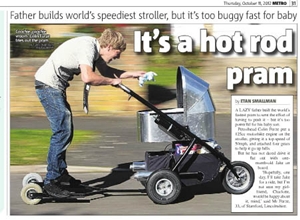 A lazy new dad has built the world's FASTEST motorised pram to save the effort of having to push it.
Plumber Colin Furze has added a powerful engine to his silver metal pushchair which gives it an incredible top speed of 50mph.
The 33-year-old has even attached four gears to help the petrol-powered three-wheeler go up and down hills. He spent four weeks and £450 designing and making the pushchair, which has a 125cc motorbike engine hidden between the wheels. Colin, who has a one-month-old son Jake, stands on a platform and uses buttons on the handle to start and stop the engine. He has added accelerator and brake levers to control the speed and uses the handle to steer. There is even space for shopping and a handy drinks holder on the side of the pushchair.
"It is rather scary to drive but I've had lots of envious looks from mums and dads, especially when they are pushing their babies up hills," said Colin. "It is really unstable when it goes at top speed and if you hit a rough bit in the road you are in danger of falling off, but so far I've managed not to crash."
Colin designed the super buggy when his girlfriend Charlotte became pregnant. He was determined to build the fastest pushchair in the world and applied to Guinness to set the record as there wasn't one already in place. He was told the pram would have to travel at least 30mph to win the title.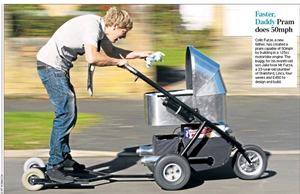 "You hear people complain about walking miles to push their new babies to sleep so I thought this would be a bit of fun," said Colin. "I needed to go at least 30mph to do the record and I managed to do much better than that which is fantastic. I designed it with three wheels to make it easier to steer, but it's still quite tricky."
He added cheekily: "Hopefully one day I'll be able to take Jake for a ride in it but I'm not sure if Charlotte would be very happy about that!"
Our Story Appeared In