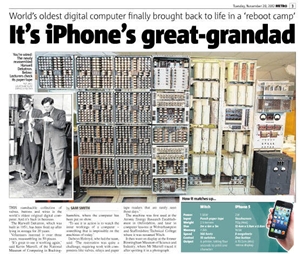 The world's OLDEST original working digital computer has been rebooted - after lying forgotten in storage for 20 years.
The 61-year-old Harwell Dekatron (aka WITCH) computer has clattered back into action at the National Museum of Computing, based at Bletchley Park, Bucks, after a mammoth three-year restoration project.
Weighing an incredible 2.5 tonnes, it is as heavy as 20,000 IPhone 5's and takes up an entire room.
The computer has been meticulously re-built by a team of volunteers after Kevin Murrell, trustee of the museum, stumbled across a photo of it and tracked it down in a storage room, where it had been dismantled into more than 50 pieces.
"I first saw the Harwell Dekatron when I was a teenager in the 1970s and it was on display in the Birmingham Museum of Science and Industry and I was very fond of it," said Mr Murrell. "When that Museum closed, it disappeared from public view, but four years ago quite by chance I was looking at some photos of items in a storage centre and in the background I noticed the computer's control panel. The computer had been carefully but thoroughly dismantled into 50 pieces and all the cables disconnected, so it took a long time to track down all the different parts."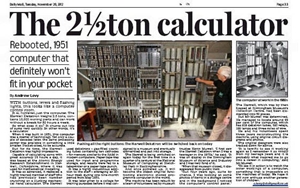 Mr Murrell and a team of volunteers managed to locate around 99 per cent of the computer where it had been lying in the Birmingham Museum's Collection Centre for more than two decades. The volunteers then worked tirelessly to re-make the computer, using original circuit diagrams and photos. They also got in touch with the original designers of the computer for some extra help.
Delwyn Holroyd, a volunteer at the museum who led the restoration team, said: "The restoration was quite a challenge, requiring work with components like valves, relays and paper tape readers that are rarely seen these days and are certainly not found in modern computers. Older members of the team had to brush up on old skills while younger members had to learn from scratch."
When the Harwell Dekatron was built in 1951 it was one of just a dozen in the world and has amazingly survived over the last six decades while its contemporaries have been recycled or destroyed. It first ran at Harwell Atomic Energy Research Establishment in 1951 where it automated the tedious calculations performed by bright young graduates using mechanical hand calculators. Designed for reliability rather than speed, it could carry on relentlessly for days at a time delivering its error-free results.
By 1957, the computer had become redundant at Harwell, but an imaginative scientist at the atomic establishment arranged a competition to offer it to the educational establishment putting up the best case for its continued use. Wolverhampton and Staffordshire Technical College won, renamed it the WITCH (Wolverhampton Instrument for Teaching Computation from Harwell) and used it in computer education until 1973. After a period of time on display in the former Birmingham Museum of Science and Industry, it was dismantled in around 1988 and put into storage and forgotten about.
The computer, with its 828 flashing Dekatron valves, 480 relays and a bank of paper tape readers, can now be seen by the public at The National Museum of Computing.
"It is terrific to see it working again as I remember it so vividly from my teenage years and it is probably what inspired me to go into a career in computing," added Mr Murrell. "To see it in action is to watch the inner workings of a computer - something that is impossible on the machines of today. We hope it will now enthuse another generation of children."
Our Story Appeared In