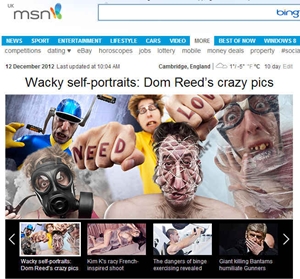 A man has spent up to five hours EVERY day for TWO YEARS taking a wacky photo of himself and posting it online.
Dominick Reed, 40, has dedicated around 3650 hours to taking the bizarre snapshots, wearing false teeth, unusual wigs and using clever photo shop trickery.
The unusual pictures show him drilling through his head, covering his face with eyes, wrapping himself in cling film and even posing with knitting needles to look like X-Men's Wolverine.
The software designer now has a cult following around the world on internet site Flickr and is now publishing hundreds of the images in a new book, "I Drink Lead Paint".
"In the past I used my camera to take family photos but in 2004 I bought a digital camera and decided photography would be my new hobby," said Dominick, who lives in Cambridge. "I started taking a photo every day with the hope that it would improve my photography skills, but I quickly ran out of ideas. I soon realised that the only thing always around was me so I began taking pictures of myself every day doing or wearing strange things."
Dominick began the project in 2010 and will often spend up to five hours getting ready for the daily photo. Over the last two years he has amassed a whole room full of fancy dress clothes, make up, wigs and props.
"I collect bits and pieces from car boot sales and eBay," he added. "Sometimes it can take hours to do a photo and once it took a whole day when I buried myself with compost in the living room."
The pictures include one with his head covered in tiny red balloons which he is about to burst, an image with bike pedals attached to his head and sticking a key in his ear. Others show him dressed as an old woman with wrinkle cream, a picture of his head bound with string, eating a hair dryer and with a head like a prickly cactus. Dominick, who works at Red Gate Software in Cambridge, is now even recognised in the streets.
"It has been a really fun project and it has certainly improved my photography and photo shop skills," he added.
Last year he took a three-month sabbatical from work to put together his new book, after requests from online followers. He has funded the book through Kickstarter, a crowd-funding site, where he was given a four-week window to raise around £10,000. The book will be published in the New Year and he hopes it will be available from Amazon and other book stores.
Our Story Appeared In