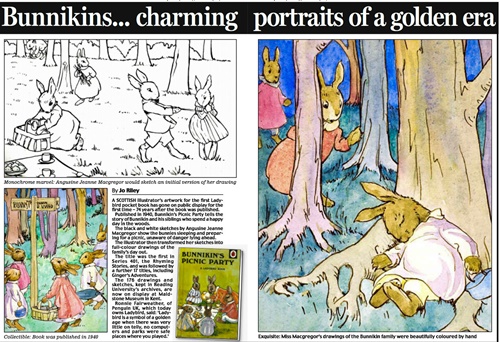 The original sketches and artwork for Ladybird Books' FIRST title, "Bunnikin's Picnic Party", has gone on public display for the first time 74 YEARS after it was published.
The beautiful pictures of Mrs Bunnikin and her family by Scottish illustrator Angusine Jeanne MacGregor have gone on show more than SEVEN DECADES after they were drawn.
Bunnikin's Picnic Party was the first pocket-sized Ladybird Book to be launched in January 1940 and tells the story of Bunnikin and his siblings who spend a happy day in the woods. But as the day goes on the baby bunny wanders away and has to be rescued from the water.
The black and white sketches show the bunnies skipping, sleeping and preparing for their picnic. The illustrator has then turned her sketches into full-colour drawings of the bunny family's day out.
The title was the first in Series 401, "The Rhyming Stories" and was followed by a further 17 titles, including "Ginger's Adventures" and "Piggly Plays Truant". The illustrations, which until now have been kept in Reading University's archives, are currently on display at Maidstone Museum in Kent.
"We are so pleased to be the first museum to ever display this collection of original artworks from the Ladybird book," said Amy Adams, interpretation manager at the museum. "As an avid Ladybird fan to see the sketches and original drawing from some of my favourite childhood books is a dream come true. It is fascinating to see the development from sketch to final artwork and interesting to see where changes were made."
The very first Ladybird book was produced by a jobbing printer called Wills and Hepworth during the First World War. The company, which was based in Loughborough, Leicestershire, began to publish literature for children, registering the Ladybird logo in 1915. The first familiar pocket-sized Ladybird book was published in 1940 for half a crown and had 56 pages. It was such a success that Ladybird went on to publish more than 1,000 titles between 1940 and 1980 on a range of subjects. The colourful mini hardbacks retailed at half a crown for 29 years and the different series included fairy tales, hobbies and interest, history and nature.
Ronnie Fairweather, creative director at Penguin UK, said: "Ladybird weren't just books, they have become symbols of a golden age. They come from a time when there was very little on the telly, no computers, mobile phones, parks were safe places where you went and played, and you got home for tea (maybe a bit late, but happy and tired). Children were allowed to feel peril and danger and test their skills at climbing or jumping up or down from unsuitable objects, playgrounds were covered in hard ashfelt that gave nasty scrapes on your knees. The sun is always shining in the Ladybird world, mummy is at home making tea and Daddy comes home every evening, reads the paper and smokes his pipe – what could be wrong with that?"
Our Story Appeared In