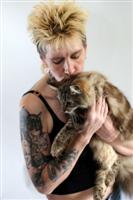 Jayne Jubb, 47, who shares her home with more than TWENTY animals, including racoons, a piranha, snake and a fox, has already had half of them drawn across her neck, arms and back.
A terminally ill woman is having all her beloved pets TATTOOED on her body so she can take them with her when she dies.
She is now hoping to get an iguana tattooed on her neck and still find space for her pet snake, dogs and cockatiels.
"When I was diagnosed with lung cancer and told I didn't have long to live I knew it would be my animals I'd miss the most," she said.
"So I came up with the idea of getting all the animals tattooed over my body.
"My husband thought I was a bit crazy at first but I've always liked tattoos and this seemed like a good way of keeping my pets with me forever."
Jayne, who was diagnosed with lung cancer in April 2007 and told she had between 18 months and three years to live, has always been passionate about animals.
She became even more animal crazy after working at the Exotic Pet Refuge in Peterborough, Cambs and left to create a wildlife sanctuary for exotic pets with husband Alan, 50.
But she became too ill to run a business and instead the couple now take in sick and rescue centre animals.
Their menagerie includes two racoons, a blind fox, four dogs, nine cats, a snake, a piranha and two cockatiels.
They have also fostered an iguana, llamas and more than 100 cats.
"I've always loved animals and been taking them in most of my life. It's my pets that make me get up in the morning," she said.
"The fox and racoons live in a pen in the garden, but inside our farmhouse you can't move without tripping over a dog or ducking as a cockatiel whizzes past.
"But it's worth it as they make me happy."
Jayne has already had four racoons tattooed across her back – a painful procedure which took six hours.
She has also had their blind fox tattooed on her lower back, her cats and some meercats on her right arm and a fruit bat on her left arm.
"All the tattoos have been done from photos of my animals," she said.
"I still have one more cat to squeeze in somewhere, and all the dogs, the snake and some llamas and an iguana we cared for.
"I don't know how long I've got left but this means I'll always have my animals with me no matter what."
Jayne has now stopped treatment for the cancer and is just on pain relief.
"I'd rather have quality of life than quantity of life and I want to have the summer with my animals," she added.
Appeared In