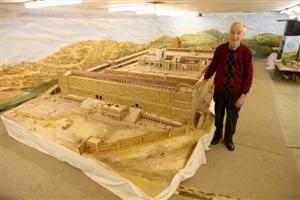 A retired farmer has spent more than 30 YEARS building an enormous scale model of a Biblical temple – and it is still not finished.
Alec Garrard, 78, has dedicated a massive 33,000 hours to constructing the ancient Herod's Temple, which measures a whopping 20ft by 12ft.
The pensioner has hand-baked and painted every clay brick and tile and even sculpted 4,000 tiny human figures to populate the courtyards.
Historical experts believe the model is the best representation in the world of what the Jewish temple actually looked like and it has attracted thousands of visitors from all over the globe.
But Mr Garrard, who started the elaborate project in his 40s, says his masterpiece will not be finished in his lifetime.
"I've always loved making models and as I was getting older I started to think about making one big project which would see me through to the end of my life," he said.
"I have an interest in buildings and religion so I thought maybe I could combine the two and I came up with the idea of doing the Temple.
"I'd seen one or two examples of it in Biblical exhibitions, but I thought they were rubbish and I knew I could do better.
"I have been working on it for decades but it will never be finished as I'm always finding something new to add."
Mr Garrard, from Norfolk, spent more than three years researching the Temple, which was destroyed by the Romans 2000 years ago and deemed to be one of the most remarkable buildings of ancient times.
He then started to construct the amazing 1:100 scale model, which is now housed in a huge building in his back garden.
"Everything is made by hand. I cut plywood frames for the walls and buildings and all the clay bricks and tiles were baked in the oven then stuck together," he said.
"I have also sculpted and painted 4,000 figures, measuring just half an inch and all wearing their correct costumes.
"Each one takes about three hours to make and there are 32 versions of Jesus, although no one can ever spot him no matter how religious they are."
Visitors come from all over the world to see the model and Mr Garrard provides binoculars so they can see all the details.
"I personally know all the top archaeologists from Jerusalem and I've had experts from the British Museum visit," he added.
"It's now recognised as the most authentic version of the Temple in the world.
"I've had a lot of offers from people to buy it, but it's not for sale.
Mr Garrard still spends hours working on the model every day.
"I look upon it as a work of art, there is lots of detail and I want it to look as real as possible," he said.
"People ask me where I learnt to paint and make models but I just taught myself. For me it's a form of relaxation and I really enjoy it.
He said his wife Kathleen thinks he is mad.
He added: "She wishes she'd married a normal person."
Built in 19BC by King Herod the Great, the Temple was flattened in AD70, just six years after completion.
In its heyday the Temple complex covered 36 acres – four times the area of Windsor Castle.
It featured the Court of the Priests, where the animals were prepared for sacrifice, the Golden Vine at the entrance to the Temple and the Eastern Gate.
Since the day the Temple was destroyed scholars have argued over the detail of its construction.
Appeared In