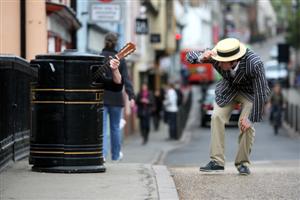 A man who sings in a BIN has helped to persuade a city council that busking is not RUBBISH.
Busking bin man Charles Cavey, 29, plays his guitar whilst squeezed into a tiny metal rubbish bin. At 5ft 9 he finds his job cramped and smelly but has proved a huge hit with passers-by.
Councillors in the historic university city of Cambridge had planned to clamp down on this type of street entertainment, but a recent survey has shown that busking is in fact hugely popular with residents and tourists.
Now Cambridge is holding its first busking festival to celebrate street performing and Charles is among 40 acts taking part.
"I saw a man empty a rubbish bin one day and thought I could fit inside it, then I learnt to play the guitar and a friend reminded me what I had said so I gave it a go," said Charles.
"People wonder what's going on when they see me, then they start getting their cameras out."
The three-day festival, which starts today (TUES) includes bands, belly dancers, an escapologist and a magician.
They will be busking in 24 locations throughout the city centre and if it is successful the council hopes it will become an annual event.
Heather Bevan-Hunt, festival organiser, said: "We are a big city so we tend to get a lot of people busking.
"We were thinking of introducing a badging system for buskers, but lots of people said they gave Cambridge a special ambiance and helped to make it a unique place.
"Now instead we've decided to hold a festival to celebrate this."
Charles added: "I think the festival is a great idea. There are always lots of people looking for something to make them smile."
Appeared In