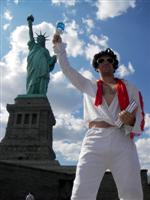 An Elvis Presley fan has survived a round-the-world trip dressed as his idol – despite a number of near-death experiences and clashes with security guards.
Matt Hale has remarkably made it through 25 countries wearing an Elvis-style white jumpsuit, bouffant wig and shades after being involved in a bus crash, taxi accident and several brushes with the law.
The radio producer, who kept his costume on throughout the whole 365-days also survived being pick pocketed, having his bank account drained, getting his credit cards stolen and undergoing emergency dental work.
"It has been a fantastic year but I'm amazed I actually made it round the world as I've had some quite narrow escapes," he said.
"I was in an old taxi in Argentina when the boot suddenly flipped up and smashed the windscreen as we were doing 120kmph down the freeway.
"The driver swerved across three lanes, got out, flipped it back down, jumped on it to secure it, got back in the car, then proceeded to accelerate back up to 120kmph again like nothing had happened."
The 38-year-old, who paid homage to the King of Rock and Roll in front of the world's biggest landmarks, was also involved in a bus crash in St Petersburg in Russia.
"I was travelling through the city on a public bus when it ploughed into a car," he said.
"There were no major injuries, but everyone in the bus was thrown forward quite violently."
Matt, whose travel itinerary included Argentina, Bolivia, Peru, Brazil, Mexico, France, UK, Moscow, Siberia, bought the Elvis suit from a charity shop and decided to wear it every day of his trip.
"I love Elvis and when I saw the suit in a bargain shop I just had to buy it," he said.
"I thought wearing it round the world would be a good way to honour the King of Rock and Roll and it seems to have worked as I've attracted loads of attention.
"My main aim was to come back with all the usual photos that people normally take of the big landmarks, but in my really bad Elvis suit and I managed it."
But Matt's Elvis suit, which caused much embarrassment for his girlfriend and travel companion Kathryn Preston, also got him into trouble with lots of security guards.
He was thrown out of the Louvre in Paris for wearing the wrong dress code and asked to leave the lost Inca city of Machu Picchu in Peru and Evita's cemetery in Buenos Aires, Argentina.
"Being asked to leave Machu Picchu after trekking four days to get there and being embraced by 5000 Gandhi lookalikes at the world's biggest Carnival in Brazil were two of my most embarrassing moments," he said.
"Most people loved having their photo taken with me, but the security guards never seemed very happy to see me.
"Quite often I had to smuggle my suit into a tourist attraction before putting it on, although I still got thrown out of a lot of places."
Matt, who comes from Welwyn Garden City, Herts, also lost his money and credit cards whilst travelling.
"I got pick pocketed and my account drained in Brazil during the Carnival," he said.
"My credit card details were unknowingly stolen but police raided a South American gang's headquarters and found fresh copies of my cards before they'd actually been used.
"Someone also stole my bag at a bus station in Bolivia, but he was caught - I think he would have been disappointed anyway.
"I also had to have emergency root canal dental surgery in Buenos Aires."
On the last leg of his journey the Elvis impersonator was also unwittingly recruited to start in a TV advert for noodles in Mongolia.
"I always imagined travelling the world for a year would open up a lot of new experiences, but when you also chuck on the world's worst Elvis suit, you're never without someone who wants to talk to you or take you somewhere," he said.
"In Mongolia I was having some photos taken in the main square of Ulaan Baatar when a group of what I thought were protestors started calling me over.
"Thirty seconds later I was given a bib to wear and a flag to hold and told to shout a certain few words.
"Not knowing any Mongolian whatsoever I did start to worry that I could be championing the cause of absolutely anything.
"Fortunately an English student explained that it was a noodle commercial, which didn't really make the experience any less surreal."
At the end of his journey Matt performed at the annual Australian Elvis Festival where the previous year he had come last in the sound-alike and lookalike competitions.
"I had a bizarre request to perform a full show on the mainstage, which was something I couldn't resist," he said.
"Fortunately they had a much better sense of humour than I ever realised and it was a triumphant return."
He is now writing a book about his round-the-world trip and performs as Crap Elvis in his rather tatty suit.
"The costume's now rather smelly and travel-worn and at one hotel a cleaner tried to throw it out but fortunately I managed to rescue it from the bin," he added.
"There was going to be a big suit burning ceremony at the end of the trip but I cancelled it at the last minute as it would have been too emotional."
Appeared In