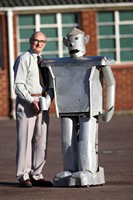 A pensioner has unearthed one of the UK's FIRST humanoid robots from a GARAGE where it has been stored for the last 45 YEARS.
Former spy catcher and RAF officer Tony Sale, 79, built the incredible 6ft high robot, George, in 1950 for just £15 using scrap metal from a crashed Wellington bomber plane.
At the time Tony was only 19 and his amazing man-sized model, which could walk and "talk" stunned the world as few people had ever seen a human-looking robot before.
Sadly computers were too crude and big to give George memory and intelligence so he was packed away in Tony's garage in Bedford and left to gather dust.

But now after nearly five decades Tony has got the radio-controlled robot working simply by putting in two new batteries and oiling his joints.

"I dug him out of the garage where he had been standing for 45 years," he said.

"I had a fair bit of confidence he would work again and luckily I was right.

"I put some oil on the bearings and added a couple of new lithium batteries in his legs, switched him on and away he went. It was a lovely moment."

Tony has always been interested in mechanics and built his first George the robot using Meccano when he was just 12 years old. The instructions for making the robot were in the Meccano manual and it could walk at a steady pace by shuffling its feet. In 1945 Tony made a second George the robot and three years later at the age of 17 he improved it by making it bigger and controlling it by radio. This new 3ft version was also made from Meccano, but was covered with a silver cardboard skin and was considered so impressive it appeared on television.

"That summer I decided to build a fourth George, which was 5ft high and had a moving jaw to simulate speech," he said.

"He caused lots of excitement and was featured in the newspapers."

In 1949 Tony joined the airforce for his national service and was stationed at RAF Debden, near Saffron Walden, Essex, where he was employed to teach pilots how to use radar. It was here he created the surviving George the robot using aluminium and duralumin from a Wellington bomber which had crashed on the site.

"He was 6ft tall and I put light sensitive cells in his eyes which enabled him to home in on an illuminated beer bottle," he said.

"He was brought out and demonstrated at all the open days at RAF Debden and featured on Pathe News."

The robot, which is powered by two motorcycle batteries can be made to walk, turn his head, move an arm and sit down. He can operate up to 30 feet from his controls. He caught the imagination of the press and was featured in numerous papers as one of the earliest humanoid robots built in the UK. George was pictured carrying the shopping, hovering and even mowing the lawn.

"I think he really impressed people because he looked so lifelike," said Tony.

"Unfortunately I wasn't able to improve him any further as computers weren't developed enough at the time.

"He has no memory and there were no computers small enough to enable him to become an intelligent robot, so he was put away.

"He was left to languish until I found him again in my garage, where he hadn't been touched for 45 years."

Tony, who was the driving force behind the rebuild of the famous Colossus computer, has now donated George to The National Museum of Computing at Bletchley Park, Bucks, which he helped to found.
Our Story Appeared In