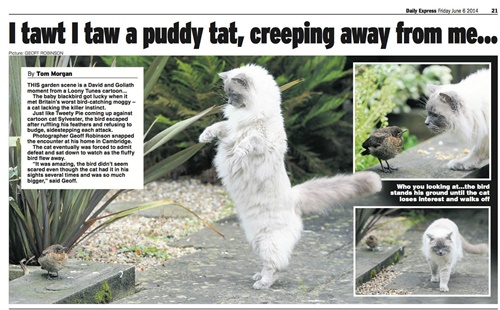 A baby blackbird got lucky when it came across Britain's worst ever bird-catching cat.
The heroic hatchling escaped without even ruffling its feathers after the cat made numerous attempts to catch him - but failed.
The brave bird refused to budge when the large cat crept up on him while he was eating in the back garden of a house in Cambridge. The fearless feathered creature astonishingly squared up to pet cat Ruggles, who tried his best to pounce on him. But in a scene reminiscent of Loony Tunes' famous Sylvester and Tweety Pie sequences, the bright bird cleverly side stepped the bird brained cat.
The hungry cat was eventually forced to admit defeat and sit down and watch as the fluffy bird won the day and flew away.
"It was amazing, the bird didn't seem scared of the cat even though it was so much bigger and trying so hard to catch it," said photographer Geoff Robinson, who spotted the scene in his garden. "The cat had the bird in his sight several times but no matter what he did he couldn't catch it. It was just like watching an episode of a Loony Tunes cartoon in my back garden."
It is not the first time Ruggles the Cat has walked off with his tail between his legs. Previously he failed to catch a MOUSE - despite coming nose to nose with the tiny creature.
Our Story Appeared In