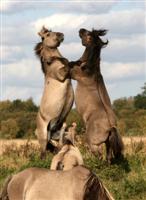 It may look like the plains of America but incredibly this rare shot of two wild stallions sparring was snapped in the English countryside.
The two konik horses were spotted fighting on the wetlands of Wicken Fen just 10 miles away from the city of Cambridge. The stallions reared up and boxed with their hind legs in a sight which has rarely been seen in Britain for 4,000 years when the last herds of wild horses roamed these fields.
The koniks, which share many characteristics of the now-extinct Tarpan, the original wild horse of Europe's forests, are one of the largest animals ever to be introduced in to the UK.
They have been imported to help manage the 325 acre nature reserve.
"It is a pretty amazing sight to see two Stallions fighting like this in Britain and it gets the heart racing," said Carol Laidlow, conservation grazing warden at Wicken Fen.
"All horses would fight like this but if people have stallions they tend to keep them apart so with domestic horses this behaviour is controlled and you don't see it.
"A lot of the time the behaviour between the stallions is just ritualistic posing, the equivalent to if you spilt someone's pint in a pub, then they will back off.
"Sometimes the stallions are just playing and enjoying a bit of rough and tumble, but other times it could be a bachelor stallion challenging the dominant stallion.
"It's very unusual to have herds like this in Britain and seeing ponies exhibiting their full range of behaviour is not something you get to see very often."
Many of the males in the 50-strong herd are covered in battle scars and bites from fighting.
But generally the ponies, which have been imported from Holland, are known for their quiet temperament.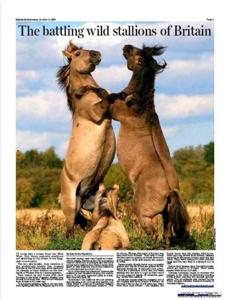 The primitive Polish breed, which are rarely taller than 13 hands high, are wetland specialists with a hardy and robust character.
They are self-reliant and are characterised by a large head, broad body, strong legs and a two-tone blond and dark mane.
They share many characteristics with the tarpan, a pre-historic wild horse which roamed Britain before the last Ice Age, but was hunted to extinction.
The last tarpan died in Russia in 1879 but the koniks have many of its features, such as zebra striping on their legs.
"Koniks are a primitive breed and you want animals who are able to cope on their own if you are going for hands-off extensive grazing," added Carol.
"They are very robust so we don't have to interfere too much if they are ill, which means we can leave them to live a natural a life as possible.
"It's early days yet but they are integrating into the landscape well."
Appeared In