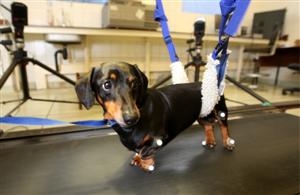 A dog who was paralysed has taken his first steps after pioneering treatment by scientists at Cambridge University.
Experts hope the procedure could eventually be used to help humans with severe spinal injuries after its success in getting pet pooch Henry back on his feet.
Henry, a smooth-haired Miniature Dachsund, was unable to walk after discs ruptured in his spine last November.
Now the six-year-old dog is walking and wagging his tail after scientists at Cambridge Veterinary School took cells from his NOSE and injected them back into his spine.
"It's incredible, I didn't think Henry would ever be able to walk again, but over the last few months he has been wagging his tail and taking small steps," said owner Sarah Beech, 34, from Birmingham.
"The vet told me to put him to sleep because he wouldn't have a very good quality of life and he was very depressed.
"But this treatment has really helped."
Henry had always enjoyed going for walks but suddenly lost the use of his legs about a year ago.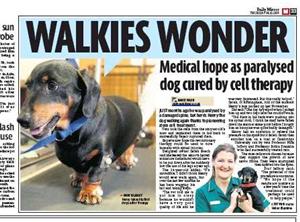 "One day he yelped when I picked him up and two days later he couldn't walk," she added.
"The discs in his back were pushing into his spinal cord and eventually he lost the use of his back legs and continence.
"I think he may have fallen down the stairs at some point before I bought him as his spine was quite badly damaged."
Henry was given an operation to ease the pressure on his spine, but it didn't work.
Then Sarah heard about the new treatment for severe spinal cord injuries and decided to enlist him in the trial.
Cells were harvested from his nose in March and injected back into his spine after four weeks.
Just a month later Henry took his first steps.
"He can take at least four steps now so he is making good progress," said Sarah.
"His tail is also starting to get back to its original shape which shows he is getting some feeling back."
Scientists originally found the treatment worked very effectively on rats.
Vets Professor Nick Jeffery and Professor Robin Franklin, who are running the trial at Cambridge University, then decided to treat dogs with the procedure because spinal injuries are common in many breeds.
"Most dogs with spinal injuries can be treated conventionally and make a good recovery, but this procedure is intended for particularly severe cases," said Dr Jeffery.
"Cells are collected from inside the back of the nose as these special cells are capable of supporting the growth of new nerve fibres.
We then increase the cell numbers, purify them and place them back into the damaged region of the spinal cord, where they help new fibres to grow."
After the procedure dogs are given physiotherapy and monitored on a treadmill to see how much movement has returned to their legs.
"The potential of this procedure is enormous," he added.
"We hope if the results are positive in a few years time the treatment could perhaps be used to help people."
Appeared In